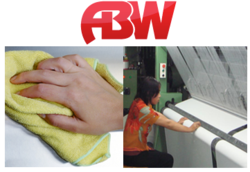 (PRWEB) April 23, 2013
The 16 inch by 16 inch microfiber cloths are one of the most popular items that A&B Wiper sells, and they are going to be available for 35 cents per item as part of the new May ad special. The special will last through the year and has already been generating interest in the industry.
These economy items give customers the advanced functionality and extended lifespan of the higher gram cloths at a much lower price, and they are just one of the many value-driven products that the team of textile experts at A&B Wiper searches for around the globe.
The sale represents a commitment that A&B Wiper has made to bringing customers the highest possible savings on the most commonly used textile products that they offer. While the ad starts in May, customers have already begun calling in on a daily basis to inquire about the highly anticipated special.
For more information about Best Rags and their upcoming special, visit their website at http://www.bestrags.com/.
A&B Wiper
With three generations of experience with wiping products, A&B Wiper now offers comprehensive expertise in the field and one of the most extensive inventories of off-priced institutional and home terry towels in the US. The team of textile experts regularly searches the globe for products so that they can then extend excellent savings on high quality products to their customers. One of the biggest specials in the industry is starting in May and will last throughout the year, bringing microfiber cloths into homes and businesses at astoundingly low prices.