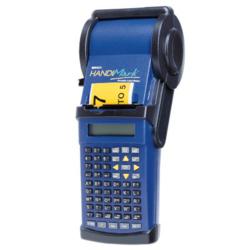 "We love using the hand held printer for labeling. It is small enough to fit in our hands but easy enough to see text displays."
Lake Oswego, OR (PRWEB) April 24, 2013
When business hits big and production is running 24-7, facilities require additional warehouses to store raw and finished goods. Sometimes outdoor space can be used to hold equipment or products until they are needed. The Brady Handimark Label Maker will create indoor or outdoor custom labels whenever and wherever they are needed and is now being offered through Creative Safety Supply.
By properly marking products and equipment as soon as they are received in will eliminate wasted time and confusion when employees need to find something for production or shipping. One person can easily and quickly produce labels up to 500 per day. The latest version of the HandiMark portable label maker offers 30% faster printing speed, with additional upgrades that increase functionality and efficiency, such as auto recall, sleep mode and a clearer graphical display. The full-featured printer offers bold, easy to read text from 0.08" to 1.7", bar coding capabilities, 12 resident operating languages, alpha-numeric sequencing, and PC compatibility.
The 8 lb portable label printer makes it easy for anyone to use and transport from one warehouse to the next. The labels are made out of super-tough vinyl tape and are specially formulated to perform for years outdoors and in industrial environments making it ideal for marking equipment or product that must be stored outside until it is ready to be moved indoors for production or shipping.
A warehouse inventory clerk commented, "We love using the hand held printer for labeling. It is small enough to fit in our hands but easy enough to see text displays."
For more information about Brady Handimark Label Printer, please visit http://www.creativesafetysupply.com/Handimark/ or call toll-free (866)777-1360 to speak with a professional representative.