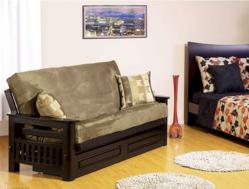 With growing concern with flame-retardants in upholstered furniture, The Futon Shop gives consumers the choice and voice to to purchase a non-chemical futon sofa bed.
San Francisco, Ca (PRWEB) April 23, 2013
The Futon Shop, the largest organic futon retailer in America, responds to the newly updated Prop 65 list and warning label law that came out this April 19th 2013. California is a state that cares about their consumers. They have such laws like TB117 that protect consumers from fires and they vote on props like Prop 65 that protect consumers from manufacturers hiding chemicals in their products and mandates warning labels of harmful chemicals. The challenge TB117 is that the unregulated flame-retardants in upholstered furniture is now out of control. Prop 65 can attest to this challenge because the list of up to 800 chemicals has increased with more flame-retardants added every year.
With growing concern with flame-retardants in upholstered furniture, The Futon Shop(TFS) gives consumers the choice and voice to purchase a chemical free futon sofa bed. TFS manufactures organic futon sofa beds free from any of the harmful chemicals listed from Prop 65. TFS, a futon mattress company that has been around since 1976, sees Californians in a real harmful situation because although TB117 has the best intention to protect people from fires in the home, the result has been more dangerous flame-retardants in upholstered furniture. TB117 states that all foam in upholstered furniture and baby products must withstand exposure to a small open flame for 12 seconds. But as a result, harmful flame-retardants are not being regulated and added to furniture with out the consumers knowledge.
In 2011, the Office of Environmental Health Hazard Assessment (OEHHA) added tris phosphate (TDCPP), a popular flame retardant in furniture to the Prop 65 list. And now the updated 2013 list has more fire retardants. For example, according to a recent Furniture Today article, written April 16, 2013, the U.S. Environmental Protection Agency (EPA) made a notice that BPA is a monomer used in manufacturing most polycarbonate plastics, which is a popular chemical in most flame-retardants.
Therefore, most Furniture retailers today that sell upholstered furniture have dangerous toxins that are harmful to sleep on and have in ones home. Buying a sofa bed or upholstered furniture can be scary and harmful to ones health because of forced flame-retardants in the furniture as well as unregulated chemicals and flame retardants that are being imported from other countries by most furniture companies. The Futon Shop, a locally run manufacturer, is different because it has complete control how their futon sofa beds are made because they make them by hand. Also, futons sofa beds are not upholstered furniture because they have the added feature of customizing the sofa into three separate parts: mattress, frame, and cover. This in return mandates less flame retardants. Upholstered furniture mandates that every part of the furniture: cover, mattress, frame be flame retardant. But futon sofa beds only requires the mattress to be flame retardant. Which means less chemicals. There are many healthy and safe advantages to purchasing an organic futon sofa bed from the Futon Shop.
The Futon Shop (TFS) believes each person deserves to live, breathe and sleep on a non-chemically laden mattress. TFS provides three options to each consumer in regards to complying with California flame retardant laws: 1) consumers can choose to get a wool barrier, which is a natural fire retardant 2) Borax is also an option. Borax is a natural salt, which can be sprinkled into the mattress, or 3) consumers can bypass flame-retardants completely and bring in a doctors note from ones doctor or chiropractor stating that the patient does not want added flame resistors. None of the three options above involve adding any of the prop 65 listed chemicals.
What is the difference and how does The Futon Shop stand apart from the rest of furniture retailers? The Futon Shop makes all their organic futon sofa beds in America. They do not use any chemicals in their organic futon mattresses, nor do any of their wooden sofa frames, or platform beds contain any chemicals from the prop 65 list. Their ingredients such as: latex, foam, memory foam, gel, fabric, wool or cotton do not have any flame retardants from the Prop 65 list.
Therefore, being a local manufacturer gives The Futon Shop complete control and empowers consumers to ask and get what they want in their furniture, without any hidden, added, or mandated chemicals. Buy local, buy organic.
About The Futon Shop:
The Futon Shop is a vertically integrated retailer that manufacturers over 33 organic and green mattresses from start to finish. The company dates back to 1976 led by Suzanne Diamond and her team of specialists dedicated to producing eco friendly furniture and bedding. Their mission is to produce the best eco-friendly/chemical-free Organic and Natural futons, organic futon mattresses, futon covers for sofa beds, futon frames, and platform bed frames that promote better healthy living and a good night's sleep for all.
Organically yours, The Futon Shop