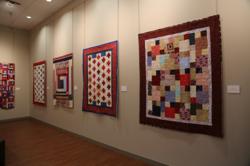 Each quilt is a testament of love for this country and for the veterans who have kept our country free. —Julia Schroeder
Omaha, NE (PRWEB) April 24, 2013
AccuQuilt has partnered with Quilts of Valor to host a very special exhibition at the AccuQuilt Gallery that showcases quilts honoring wounded American service members and veterans. The quilts were created by Lincoln Quilts of Valor guild members in Nebraska.
"Quilts of Valor" is an exhibition running from April 1 – May 31, 2013 that showcases 12 quilts of outstanding beauty and detail. The AccuQuilt gallery is open to the public who can visit and view these quilts made specifically for war-wounded service members. Each quilt is a minimum of 55 x 65 inches and is adorned in a variety of inspired patterns and colors.
"The display of Quilts of Valor at AccuQuilt is a perfect example of the heartfelt collaboration of all quilters across the United States," said Julia Schroeder, QOV Region 5 Coordinator. "These volunteers bring comfort and healing to our wounded warriors. Each quilt is a testament of love for this country and for the veterans who have kept our country free."
The AccuQuilt Gallery is located at the AccuQuilt Omaha headquarters at 8843 S 137th Circle (near Cabela's®, off Interstate 80). Visitors can view this selection of showcased quilts by the Lincoln QOV guild and can tour AccuQuilt's Gallery by calling 888.258.7913 or emailing tours(at)accuquilt(dot)com for more information.
Typically, a Quilt of Valor is created and presented in a variety of ways, from special visits to a VA hospital to an event or ceremony honoring a veteran's service time. Each quilt is handmade and given as a way to show military men and women how much they are valued. Wounds can be both visible and unseen, with scars that affect individuals in a variety of ways. "Quilts of Valor" is a non-profit organization dedicated to showing service members that they are cared for and supported on the road to recovery. To find out more about this organization, visit http://www.qovf.org.
In 2012, the Lincoln Quilts of Valor guild made 100 quilts for special display at the Lincoln Guild Show. Quilts from members of this guild have been presented to active military and National Guard members locally as well as overseas.
About AccuQuilt – Better Cuts Make Better Quilts®
Headquartered in Omaha, Neb., AccuQuilt offers quilters, fabric crafters and retailers a premiere line of fabric cutters, dies, quilting patterns and other quilt and fabric cutting solutions that help quilters quickly and accurately cut shapes for quilting and fabric crafts. AccuQuilt also offers quilters a wide variety of rich educational resources to enhance their quilting experiences. Cutting with AccuQuilt cutters is a natural evolution of fabric cutting methods. "First scissors…then rotary…finally…AccuQuilt®" for fast, easy, accurate fabric cutting. Visit http://www.accuquilt.com for more information.