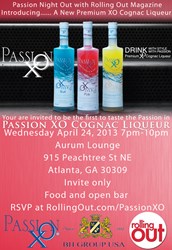 Atlanta, GA (PRWEB) April 23, 2013
Rolling Out has invited Atlanta's tastemakers to join us for "Passion Night Out" at Aurum Lounge on Wednesday, April 24, 2013, from 7-10 p.m. The invitation-only event will feature Passion XO, a unique line of Premium Cognac Liqueurs consisting of proprietary blends of different flavors of exotic natural fruit juices with Birkedal Hartmann XO Cognac. Passion XO is extremely smooth, vibrant and versatile. It can be enjoyed over ice or mixed with a variety of different liquors or sparkling wines to create simple yet innovative tasty, quality cocktails. Passion XO is currently available in three flavors, Sun-Passion Fruit, Pink-Pomegranate and Blue-Curacao.
Aurum Lounge is located at 915 Peachtree Street, NE, Atlanta, GA, 30309. This event is invitation-only. Light hors d'oeuvres will be served. RSVP at rollingout.com/PassionXO
About Rolling Out Magazine:
Rolling Out, the nation's largest free urban weekly, is a digital and print magazine that focuses on the black experience in response to entertainment, politics, fashion, culture, sports and lifestyle points of interest. Headquartered in Atlanta, rolling out is positioned as the voice for the African American experience, using its newspaper as a platform in the marketplace to express urgency for education reform, and to document entrepreneurial endeavors and other relevant issues in the Diaspora. For information on Rolling Out, please log on to rollingout.com.
About Passion XO:
Established in June of 2011, BH Group USA is a synergistic union between Paul Governale, Gigi Olah, Peter Governale and Kim Birkedal Hartmann, CEO and owner of Birkedal Hartmann Cognacs in France. The group came together with the vision of becoming a leader in the Spirits brand building business. They bring their many years of industry experience to the world through developing, incubating and distributing a full line of "Sensible Luxury New Age Spirits" designed for today's cocktail culture.
Passion XO, the flagship of BH Group's unique Sensible Luxury brand portfolio, was introduced to the world of Wine and Spirits professionals in June 2011 at the industry's largest International convention, Vinexpo in France. There, Kim Birkedal Hartmann announced that Passion XO was his latest innovative creation and the next chapter in his family's long history in the Cognac business that dates back to 1887.
16% ALC/VOL. © 2012 IMPORTED BY BIRKEDAL HARTMANN IMPORT CO. MANHASSET, NY
Twitter.com/bhgroupusallc | Facebook.com/bhgroupusallc | http://www.bhgroupusa.com