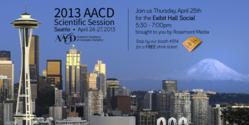 We've worked closely with the AACD to bring the best of our services and products to the floor, and enhance the organization's goals. Whether we're talking about dental SEO or responsive website design, our main thrust is supporting the member dentists.
San Diego, CA (PRWEB) April 23, 2013
The 29th Annual Scientific Session of the American Academy of Cosmetic Dentistry (AACD) is scheduled to begin this week in Seattle, running from April 24-27, 2013. Rosemont Media will attend the event to showcase the agency's suite of dental website design and marketing products and services, and help educate dentists and their teams about the essential role online advertising plays in the success of their dental practice.
CEO Keith Humes says the agency will also be hosting the AACD Exhibit Hall Social Hour, which is scheduled for April 25 from 5:30-7:00 pm. While the main goals of the conference for the AACD and Rosemont Media are to "Educate, Inspire, Connect" attending dental experts, Humes says the social hour gives everyone involved the chance to relax and enjoy the company of like-minded professionals, while discussing the benefits of related services such as SEO and social media for dentists.
According to Humes, year after year, the Social Hour is a favorite for all involved: "We get the chance to take a deep breath, catch up with clients, and have a casual conversation with anyone interested in improving the online presence of their practice. Setting aside this time away from the buzz of the conference and requirements of courses and lectures offers the perfect opportunity to really get to know more about each dentist's passion, and better understand their motivations for reaching more patients and improving overall dental care."
As the entire dental marketing team at Rosemont Media prepares to leave for Seattle and the AACD 2013 meeting, Humes says he is more excited for this year than any other: "Since 1999, I've been attending the AACD conference, and every year I have a fun and educational experience. This year is different though. Because we work with a number of dentists in a wide variety of cosmetic specialties, we've worked closely with the AACD to bring the best of our services and products to the floor, and enhance the organization's goals. Whether we're talking about dental SEO or responsive website design, our main thrust is supporting the member dentists."
About Rosemont Media
The dental marketing and website design agency was founded by CEO Keith Humes in 2008 to improve the overall online landscape for dentists and their practices. By combining the philosophy of traditional advertising firms with the effective practices of search marketing, the agency not only strives to help practices reach more patients, but also to help them elevate the potential of their website while protecting their online reputation. Read more about Rosemont Media and the AACD: "Rosemont Media Attends AACD 2013 and Sponsors Exhibit Hall Social Hour."
Rosemont Media
Keith Humes
keith(at)rosemontmedia(dot)com
858-200-0044
http://www.rosemontmedia.com