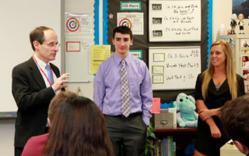 PCU has a strong commitment to financial literacy and to helping children develop lifelong skills for managing their money. PCU President/CEO Brian Sherrick
Woodbury MN (PRWEB) April 25, 2013
Postal Credit Union (PCU) in Minnesota is highlighting its commitment to financial literacy and educating young members on the importance of building a strong financial future as part of the National Youth Savings Challenge in April. Members under age 18 are encouraged to register online and track their savings progress throughout the month as they 'stache their cash at PCU. Weekly winners of a mustache themed t-shirt will be selected at each branch, and one lucky saver will be chosen at random to receive $100 at the end of the challenge.
To help promote the savings challenge, PCU employees are sporting colorful "'Stache Your Cash at Postal Credit Union" t-shirts every Friday to remind young members about the importance of visiting their credit union and saving for their future.
"PCU has a strong commitment to financial literacy and to helping children develop lifelong skills for managing their money," stated PCU President/CEO Brian Sherrick. "The National Youth Savings Challenge is a fun way to reach out to young members to encourage them to save, and remind them their credit union is here to help."
PCU offers a suite of student financial products to help youth build their financial future, including Free Student Checking, a Student Savers CD and a unique Credit Builder loan to help establish that all-important credit rating.
PCU's Tartan High Student Credit Union recently hosted a visit by Minnesota Department of Commerce Commissioner Mike Rothman, who toured the branch and spoke to students on the importance of youth savings and financial education. "Financial literacy can mean the difference between getting ahead and falling victim to the pitfalls associated with poor use of credit," said Rothman. "Opening a savings account at a financial institution can provide fundamental skills, as well as teaching proper budgeting and setting short-term and long-term goals."
"PCU's event during Financial Literacy Month and participation in the Savings Challenge serve as opportunities to build strong relationships with young credit union members in the community – and their families – by reinforcing the value of financial education and the benefits of credit union membership. Our goal is to help youth start smart money management habits, while creating member loyalty," said Alisha Johnson, PCU's Senior Vice President – Marketing, Sales and Service.
Founded in 1926, PCU is a full-service financial cooperative offering a complete range of services, including 24/7 loan approval, mortgages, online banking, online deposits, checking, business services, investment services and more. PCU is proud to serve Anoka, Chisago, Dakota, Hennepin, Ramsey and Washington counties, with office locations in Eagan, Hugo, North St. Paul, West St. Paul and Woodbury. For more information, call 651-770-7000, 800-247-0857 or visit http://www.postalcu.org.