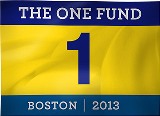 As fate would have it, we broke with tradition and were not there this past Monday.
(PRWEB) April 23, 2013
In response to the recent bombings at the Boston marathon, Sojourn Bicycling Vacations announced plans to donate twenty percent of their profits from all 2013 Massachusetts trips to the One Fund for Boston. The One Fund for Boston was established to raise money to help those families most affected by the tragic events that unfolded during the recent Boston Marathon.
Sojourn will donate twenty percent of profits from all of their bike tours on Cape Cod as well as Martha's Vineyard and Nantucket Islands. These week-long trips, attracting travelers from all over the world, both utilize Boston as their hub city for visiting participants.
In the first 24 hours of the One Fund for Boston being established, more than $7 million was raised. However, this only begins to scratch the surface of what victims of the bombings will need in the form of financial support. Many of these victims - likely some without health insurance – are expected to require assistance for the remainder of their lives. Sojourn staff, frequent travelers, and business partners plan to supplement each donation Sojourn sends to The One Fund for Boston.
"We are all deeply angered and saddened over the senseless attacks on innocent people at the recent Boston Marathon" says Sojourn President, Susan Rand who grew up in nearby Lexington where the historic shot heard round the world was fired. "Patriot's Day is recognized as one the most important days of the year in the Boston area and serves as a reminder of the pride and determination of our forefathers who fought so selflessly for our nation's freedom."
"Patriot's Day is also a day synonymous with the Red Sox and the Boston Marathon – the world's oldest annual marathon and Boston's biggest one-day crowd for a sporting event. Countless times we've attended the morning Red Sox game then spilled out of Fenway Park, along with throngs of other fans, to walk toward the finish line of the marathon. As fate would have it, we broke with tradition and were not there this past Monday."
Sojourn plans to support The One Fund for Boston which has been established to raise funds to help care for the recent Boston Marathon bombing victims and their families. If you would like to help those in need, donate directly to The One Fund for Boston or join Sojourn on one of their Martha's Vineyard & Nantucket or Cape Cod bike tours.
Sojourn Bicycling Vacations is based in Charlotte, Vermont and offers award-winning trips in extraordinary destinations throughout the United States and Canada. Premiere lodging, unique itineraries, and experienced tour leaders.