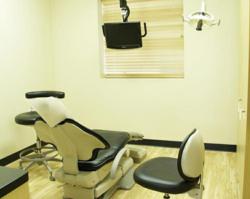 FLOSS Dental is excited to bring its unique take on dentistry to the San Antonio community.
San Antonio, TX (PRWEB) April 22, 2013
Dallas based FLOSS Dental is proud to announce their first office in San Antonio is up and running as of April 1, 2013. FLOSS San Antonio will mark the 18th FLOSS Dental location. FLOSS San Antonio is also the first office outside of the Dallas/Fort Worth, Houston, and Austin markets, where FLOSS' presence is more established. The office is located in the Stone Oak area of San Antonio and is currently accepting new patients.
Dr. Alexandra Forney is the associate dentist at the new FLOSS location. Dr. Forney is a graduate of the University Of Texas Health Science Center in San Antonio. There she earned her Doctorate of Dental Surgery, with Distinction in Dental Education
"Being from San Antonio, I am thrilled to be a part of the FLOSS team and to open San Antonio's first FLOSS location. I feel at home as a member of the FLOSS family, and hope my enthusiasm and passion for dentistry is illustrated in my everyday work," Dr. Forney stated.
FLOSS Dental is excited to bring its unique take on dentistry to the San Antonio community. FLOSS utilizes the latest in dental technology to bring full service general and cosmetic dentistry to patients. Each office has a sleek, modern atmosphere and a welcoming staff. All of these services are brought to patients at in-network pricing, along with specials, such as free teeth whitening for life.
FLOSS Dental looks forward to serving the Stone Oak community in San Antonio as their local dentist. FLOSS has plans to become an active part of the local San Antonio community. Patients can learn more about the FLOSS San Antonio office or make an appointment by calling 210-293-0101 or emailing infosanantonio(at)flossdental(dot)com.
About FLOSS Dental
FLOSS is a full service general and cosmetic dental office that offers a new experience in dentistry. Founded in Dallas in 2007 by Dr. Clint Herzog, FLOSS set out to transform the dental industry by creating a new experience for patients. The FLOSS experience is centered around unconditional service. FLOSS offers its patients the best there is in state-of-the-art dental technologies in a comfortable, upscale setting—all at affordable in-network pricing. In the five years since its first Dallas office opened, FLOSS has opened 14 offices across Dallas, Fort Worth, Houston, Austin and San Antonio.