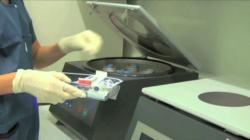 Smile With Confidence
(PRWEB UK) 24 April 2013
East Sussex dental practice Brighton Implant Clinic is helping its dental patients get on the fast track to recovery and go back to peak performance. Recently, the practice began using Platelet Rich in Growth Factors treatment (PRGF treatment) to bring about more rapid wound recovery from oral surgery or other dental treatments.
PRGF treatment is a process that uses patients' own blood to draw plasma and specialized proteins that stimulate and accelerate tissue growth and restoration. Particularly, it makes use of growth factors of platelets within the bloodstream which influence cellular travel, modification, and growth, and which accelerate the formulation process that guides tissue regeneration. In the normal healing process, the body initializes healing by distributing multiple cells and cell types to the wounded area to begin that area's recovery; one of the cell types distributed are platelets. Platelets help healing by producing blood clots and releasing these growth factors into the wounded area to push stem cells into performing tissue regeneration. PRGF takes this process and speeds it up, improving it and making it perform at a faster pace.
All that PRGF treatment involves is a team member drawing blood from a patient and processing the patient's healing cells. Dental services in which the treatment is, most of the time, implemented in to speed up healing include extractions, bone defect repair, and dental implants.
There are multiple advantages to using PRGF treatment to speed up the healing of wounds from dental treatment options:

Proven effectiveness- PRGF has been clinically proven in thousands of studies to be a very effective procedure in expediting tissue regeneration. Whether it is used to regenerate bone tissue or soft tissue, PRGF has been shown to be equally effective in restoring and growing both types of tissue in shorter periods of time than normal healing takes.
Patient safety from transmitted diseases- PRGF uses patients' own blood for preparation and treatment. Therefore, disease transmission is not a medical concern.
Fast process and small amount of blood required- PRGF requires little blood to be drawn and preparation typically takes a maximum of 15 minutes. The treatment is, therefore, ready for administration in a very short amount of time.
Affordability- Blood is taken and then prepared for PRGF administration in Brighton Implant Clinic's in-house lab. Patients, therefore, do not have to have the procedure done at hospitals or blood banks and pay elevated costs for the service.
Dr. Bruno Silva, Principal Dentist of Brighton Implant Clinic, explains, "PRGF has proven to be very effective in treating most dental treatments performed today. It's efficient, cost-effective, and effective in helping our patients recover quickly and effectively. We're pleased to be able to offer this procedure in addition to all of our other quality treatments at our clinics."
Customers interested in learning more can visit http://www.brightonimplantclinic.co.uk/. There, they can find out more about Brighton Implant Clinic's specialty service, dental implant placement, and other dental treatment options, and even schedule a free initial consultation.