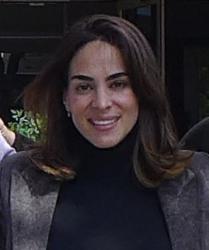 Palo Alto, CA (PRWEB) April 25, 2013
Sofia University (formerly the Institute of Transpersonal Psychology) announced today the addition of Sofia Fregoso Leaño to its Board of Trustees. Sofia University Trustee Rick Hesel and President Neal King met Sofia Fregoso Leaño during the semi-annual meeting of the International Association of University Presidents (IAUP), held in March 2013 at host university Universidad Autonoma de Guadalajara in Guadalajara, Mexico, the first and largest private university in Mexico.
Hesel and King were impressed by Sofia's entrepreneurial spirit and enterprises, her warm and fluid social grace (she hosted IAUP members' spouses and partners during the business meetings), her dedication to education at all levels and her clear resonance with the mission and values of Sofia University.
Sofia serves on the board of the Universidad Autonoma de Guadalaraja's foundation as well as on the board of a new venture in Guadalajara, which she co-owns with her husband, a joint Canadian-Mexican curriculum elementary school, which will grow incrementally into a K-12 school.
Sofia is also an interior designer who owns and operates her own furniture stores in her home state of Jalisco, Mexico. She studied design at the Academy of Arts University in San Francisco.
Sofia and her husband, Universidad Autonoma de Guadalajara vice president Antonio Castillo Leaño, maintain a home in West Los Angeles and are frequently in California. Their three young daughters where born in Southern California. Sofia's father-in-law is the current president of Universidad Autonoma de Guadalajara.
Sofia visited the Sofia University campus on Friday, April 5, 2013, with her husband, their three young daughters, her father-in-law and the children's nanny. During this visit, she toured the campus and met with board members Peter Coughlan and Bob Freelen, and several members of the Sofia community.
Sofia Fregoso Leaño will join the Sofia University Board of Trustees as a new trustee in July 2013.
About Sofia University
Founded in 1975, Sofia University (formerly the Institute of Transpersonal Psychology) is a private, non-sectarian university accredited by the Western Association of Schools and Colleges. For over 35 years, within the context of scholarship and research, the school has offered transformative education for the whole person, probing the mind, body, spirit connection. As Sofia University, the school is broadening its mission, reaching into multiple disciplines and adding undergraduate study. For more information, visit http://www.sofia.edu.
###