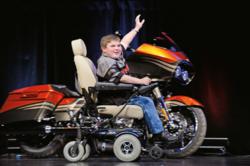 "The Ball is an important event for Milwaukee's community and business leaders because they can have a great time while connecting for a bigger purpose - to help MDA families," Harley-Davidson President and Chief Operating Officer Matt Levatich said.
MILWAUKEE, (PRWEB) April 23, 2013
Hundreds of Milwaukee business and community leaders are revved up to dress down for the 20th annual Black-N-Blue Ball to benefit the Muscular Dystrophy Association on Friday, May 3, at the Delta Center in Milwaukee.
Whether longtime motorcycle enthusiasts, or just bikers for the night, more than 1,350 guests will suit up in "black" leather and "blue" jeans to show their support for the fight against muscle disease.
"This year's Black-N-Blue Ball is particularly special because it coincides with our company's 110th anniversary," Harley-Davidson President and Chief Operating Officer Matt Levatich said. "The Ball is a fun, and important, event for Milwaukee's community and business leaders because they can have a great time while connecting for a bigger purpose — to help families served by MDA. Over the years, MDA families have become part of our Harley-Davidson family. Raising awareness — and money — for them and the Association helps fulfill their dreams of personal freedom."
The sold-out, one-of-a-kind social event will feature an entertainment-packed evening filled with fine dining, a temporary tattoo parlor, the opportunity to have pictures taken on a Harley-Davidson motorcycle and live entertainment provided by one of southeastern Wisconsin's favorite classic rock cover bands, Stray Voltage.
Television personality/producer and MDA National Vice President Jann Carl will host the event for the third consecutive year. Carl is best known for her 14 years at "Entertainment Tonight" and is a longtime friend of the Association. She's currently co-host and producer of "Small Town Big Deal" on RFD-TV.
MDA's National Goodwill Ambassador, 12-year-old Bryson Foster of Concord, N.C., will make his second appearance at the Ball to represent the Association and help Carl with her presenting duties. Bryson will share his positive attitude and "words from his heart" with the 1,350 event guests, and explain what it means to him to be able to represent MDA families just like his.
Event highlights also include an MDA Children's Art auction, a live auction and a silent auction of more than 350 different items and packages. Each auction features a wide variety of items, including Harley-Davidson collectibles, memorabilia and merchandise.
Guests will have the chance to bid on a spot in the Harley-Davidson 110th Anniversary Parade of MDA Heroes in Milwaukee over Labor Day weekend, as well as a once-in-a-lifetime vacation package to Rome in June to join in Harley-Davidson's 110th European Celebration. Additional items include a 2013 110th Anniversary edition Heritage Softail Classic motorcycle and the original of "The Enthusiast" painting by artist David Uhl, plus much more.
A large part of the Black-N-Blue Ball's success is the result of corporate support from Harley-Davidson Motor Company and other local and national corporate sponsors, including: CITGO Petroleum Corporation, BMO Harris Bank, United Parcel Service (UPS), Jason Inc., GS Design, DCI Marketing, syncreon, KIDO, Viva International Group, The Anderson Group, Caterpillar Inc., CDW, Delphi Foundation, George Webb Restaurants, MacLean-Fogg Component Solutions, Quarles & Brandy LLP and Schaeffler Group USA Inc.
This year's event is led by Honorary Road Captains Mike and Jennifer Hansen of The Anderson Group and Co-Honorary Road Captains Kevin and Melissa Moran of Michael Best & Friedrich LLP.
Since 1994, the Black-N-Blue Ball has raised more than $7 million to benefit MDA programs and services. In 2012, the Black-N-Blue Ball attracted a crowd of almost 1,300 guests and raised a net $690,000.
Funds raised at MDA's Black-N-Blue Ball will benefit local families served by the Association. MDA offers comprehensive medical services at the local Children's Hospital of Wisconsin and Froedtert Memorial Lutheran Hospital, as well as valuable support groups, comprehensive health care, advocacy and education.
For more information about the Black-N-Blue Ball 20th anniversary event, visit MilwaukeeBlack-n-BlueBall.com or contact MDA Divisional Director of Business Development Lisa Lodde at (262) 432-6798 or llodde(at)mdausa(dot)org.
About Harley-Davidson's 110th Anniversary
Harley-Davidson is celebrating its 110th anniversary in style with year-round rides and events connecting fans from around the world throughout 2013. The 110th anniversary experience features 12 events in 11 different countries across six continents, and will be capped by two main entertainment-packed celebration events in Rome and Milwaukee.
The Harley-Davidson 110th Anniversary European Celebration in Rome will feature a party in the Port of Ostia and a parade through the center of Rome. The top-five fundraising riders for MDA will be invited to join the celebration abroad with an all-expenses-paid trip from June 13-16, 2013.
Harley-Davidson fans will complete the yearlong festivities on Labor Day weekend at the Milwaukee 110th Anniversary Celebration. Keeping with tradition, the Parade of MDA Heroes will be featured in the Harley-Davidson 110th Anniversary Parade on Aug. 31 to showcase the generosity of Harley-Davidson riders and their passion for helping to provide independence for children and adults served by MDA.
The first 110 riders with the highest contributions for the Association will be invited to ride in the MDA Parade of Heroes section within the Harley-Davidson 110th Anniversary Parade. Participating riders can collect pledges and donations for MDA through any local Harley-Davidson dealer or at any H.O.G. ride for MDA nationwide.
The epic event also will feature three headlining concerts, a party on the shore of Lake Michigan, fan-organized rides and much more.
To learn more about Harley-Davidson 110th anniversary events that benefit MDA, visit mdarides.org.
About MDA
MDA is the nonprofit health agency dedicated to finding treatments and cures for muscular dystrophy, ALS and related diseases by funding worldwide research. The Association also provides comprehensive health care and support services, advocacy and education.
In addition to funding more than 250 research projects worldwide, MDA maintains a national network of 200 medical clinics; facilitates hundreds of support groups for families affected by neuromuscular diseases; and provides local summer camp opportunities for thousands of youngsters living with progressive muscle diseases.
For more information, visit mda.org and follow MDA on Facebook (facebook.com/MDAnational) and Twitter (@MDAnews).