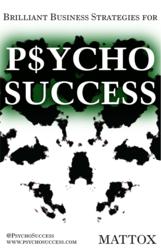 Our e-commerce business model is not the only item that has made Shop for bags a success. Our employees, great products, and competitive prices have always been our strengths and why our customers continue to purchase from us."
Dallas, TX (PRWEB) April 23, 2013
Aside from being a leading wholesale apparel distributor, Shopforbags.com is also garnering attention from industry in the new small business strategy book, Psycho Success.
"We at Shop for Bags Inc. wish the author well with his new book and still hope to maintain a working relationship with the individual." says Shopforbags.com owner Katy Messersmith. "Our e-commerce business model is not the only item that has made Shop for bags a success. Our employees, great products, and competitive prices have always been our strengths and why our customers continue to purchase from us."
A former advisor to Shopforbags.com recently wrote about the wholesale clothing company in the print and e-book on small business strategy. Psycho Success mentions what the author believes to be the only reason for the success of Shop for bags, Inc. The author states when the company was first launched in 2002, it was the first wholesale handbag distributor on the Internet. This gave Shopforbags.com an overwhelming first mover advantage as being the first to market its wholesale merchandise on the Internet. The first mover advantage promptly grew the company at an accelerated pace far surpassing the competition through this new marketing channel. A claim Shopforbags.com doesn't dismiss, but believes several other factors also contributed to our success, including: the owner, staff and their marketing execution.
The business strategy book contains techniques, strategies, tips and advice that impact marketing, negotiation, revenue and networking for any small business. Psycho Success can be purchased at Amazon and Barnes & Noble or off the book's website http://www.PsychoSuccess.com