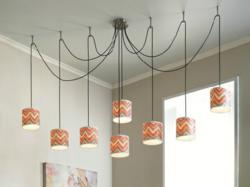 Swag style lighting is now combined with multiple pendants and chandeliers.
Los Angeles, California (PRWEB) April 25, 2013
Swag lights have been a hot style in home lighting for the past several years. In these designs, a single light hangs from a ceiling hook. A cord or canopy line is then draped, or swagged, over to another hook to create a unique visual look. In a distinctive evolution of this trend, Lamps Plus, the nation's largest home lighting retailer, has unveiled a new line of chandeliers that enable swag style lighting with multiple hanging lights: Meet the new multi swag chandelier.
"The multi light look is very popular in restaurant and hotel design these days," explains Manja Swanson, Chief Creative Officer at Lamps Plus. "We're seeing the cluster chandelier and multi light pendant gain traction in home decorating too. So we developed these stylish, versatile fixtures to match any home decorating style."
These new chandelier designs maintain the swag light's ability to customize look and layout to fit a particular room, but do so with two, three, four or eight lights instead of the usual one. Swanson says, "these new multi swags give consumers and designers the ability to create really personalized, distinctive lighting fixtures. The hanging pattern and height can be varied to meet just about any home decorating need."
Installation is a simple DIY job. Each swag cord line is wired to a center ceiling canopy, which installs into any junction box just like a normal ceiling light or chandelier. Depending on the design, consumers would then install provided hooks or standoffs in the ceiling. Explains Swanson, "hooks are used in our traditional designs, while the standoffs create a sleek modern design look. The hooks or standoffs can be set in a radius around the canopy, extended in a straight line, or placed in just about any pattern a designer would like."
Once the hanging points are in place, the chandelier cords are swagged to these points and the hang heights of the fixtures are adjusted to get the desired visual look. Notes Swanson, "These look wonderful in an entry way or in a room corner. As a designer, I like to use the four light version and stagger the hang heights to brighten seating area room corners. Bunched together or clustered, mini-pendants in particular look absolutely wonderful over large dining room tables."
The multi swag chandelier collection debuted with over one-hundred different designs. Styles range from modern multi light pendant designs in chrome to traditional Tiffany style mini pendants. Featuring exposed decorative Edison style antique light bulbs, several designs offer a popular industrial look for both consumers and for commercial applications. Canopy finishes are in either a warm bronze or a contemporary brushed nickel. Additional designs are planned for early summer.
ABOUT LAMPS PLUS
For more than 30 years, Lamps Plus has been synonymous with excellence in the retail lighting industry. Established in 1976, Lamps Plus is the nation's largest specialty lighting store, with more than 40 superstores throughout the western United States. Together with their retail locations and online business, Lamps Plus serves customers nationwide with the largest selection of functional and decorative lighting fixtures, accessories, furniture and home decor. This selection includes hundreds of products, ranging from traditional chandeliers to the latest in home decor, available exclusively from Lamps Plus. Services include in-home lighting consultations, in-store workshops and installation from expert, licensed electricians. American Lighting Association certified designers are available to offer product recommendations and advice in all our stores, by phone or online at LampsPlus.com. The Lamps Plus family of websites also includes 55 Downing Street, Lighting Luxury Style, Builders Discount Lighting, and Lamps Plus Open Box. Visit the official Lamps Plus website: http://www.lampsplus.com.