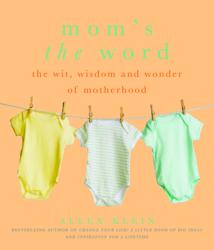 (PRWEB) April 23, 2013
Mother, Mom, Mommy, Ma, Mama, Mum—there are many ways to call the person who brings everyone into this world. To thank and delight the woman who means so much this Mother's Day, look no further. Viva Editions has parenting guides the cover every age of childhood from top parenting experts Blythe Lipman and Dr. John Duffy. Kate Hopper encourages moms to write their "mother stories" and Maggie Oman Shannon has over 40 idea for projects to foster creativity and contemplation. Mom's the Word celebrates motherhood and Girlfriends Forever celebrates those women moms can't live without. Whether Mom needs help with everything, or just a bit of encouragement, give her the gift of inspired living.
Mom's the Word
The Wit, Wisdom, and Wonder of Motherhood
by Allen Klein
Heartwarming and humorous, this tribute to moms of the world gathers the best things anyone ever said about motherhood. From beloved role models to movers and shakers, women (and a few men) crack wise on the subject at the center of everyone's life, mommy dearest!
Crafting Calm
Projects and Practices for Creativity and Contemplation
by Maggie Shannon
Maggie Oman Shannon's Crafting Calm is a DIY guide to peace of mind, offering an abundance of ways to achieve serenity and satisfaction by living the handmade life. Author Oman Shannon, the spiritual director of a Unity Church, explores crafts and creativity as a lifelong practice with enormous physical, emotional and spiritual benefits.
Use Your Words
A Writing Guide for Mothers
by Kate Hopper
Award-winning writer Kate Hopper has spent nearly a decade teaching women to write down the bones of motherhood. Now, in Use Your Words, her expert guidance will encourage mothers to write the stories they need to write, whether the goal is to blog, publish magazine articles, or pen the next blockbuster memoir.
Lemons and Lavender
The Eco Guide to Better Homekeeping
by Billee Sharp
Bursting with ways to downshift, simplify, preserve resources, and honor the planet, Lemons and Lavender will give moms tools to reclaim a purer, tastier, healthier and less expensive way of life.
Help! My Toddler Came Without Instructions
Practical Tips for Parenting a Happy One, Two and Three Year Old
by Blythe Lipman
Blythe Lipman comes to the rescue with excellent advice, hundreds of tips and sanity-saving solutions. Go from stressed out, overwhelmed and exhausted to meltdown free and mellow! When new "toddler troubles" arise, turn to Lipman's Help! My Toddler Came Without Instructions and get back in control of that out-of-control child.
Help! My Baby Came Without Instructions
How to Survive (and Enjoy) Your Baby's First Year
by Blythe Lipman
Blythe Lipman has devoted her life to the art of newborn care and offers wise and witty practical advice in this parent-tested, doctor-approved book. Filled with valuable information new parents need, Help! My Baby Came Without Instructions will have nervous new moms and sleep-deprived dads feeling confident about their parenting skills.
Girlfriends Forever
We've Got Each Other's Back
by Reeda Joseph
Sassy, smart and filled with witty advice, Girlfriends Forever celebrates the bonds of true friendship with love, laughter and a whole lotta fun. Husbands and boyfriends are nice accessories, but girlfriends are the essential must-haves of life.
The Available Parent
Radical Optimism for Raising Teens and Tweens
by John Duffy
Dr. Duffy can help shift the dynamic in a parent's relationship with their teenager. Imagine what it would be like if healthy conversations replaced angry outbursts or petulant silence. Using the techniques in The Available Parent, begin to enjoy a healthy, satisfying, new kind of relationship with your teenager.