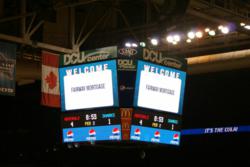 Auburn, MA (PRWEB) April 25, 2013
For every Fairway Mortgage client who attended the Worcester Shark's game on April 12th, Bill Murphy pledged to donate $5 to the Why Me Organization. Two hundred and seventy-four of Fairway's loyal clients responded. Fairway Mortgage has signed a check for $1370 made out to Why Me. Fairway also provided their customers with free tickets and the first 40 kids participated in the High Five Tunnel with the Sharks players. Pictures are posted at http://www.facebook.com/fairwaynewengland.
The Why Me Organization offers a helping hand to families navigating the cancer treatment process, connecting them with support and services. They host fundraisers, family fun events and bereavement groups. Why Me goes above in beyond with providing effected families with parent essential kits, which include phone cards, gas cards, toiletries, etc.; they also extend a loving arm of emotional support and retreat getaways so families can spend the most important moments together creating lasting memories.
About Bill Murphy
Born and raised in Worcester, Bill Murphy has been in the mortgage business for more than twelve years. A Certified Mortgage Planning Specialist™, Bill continues to attend workshops and seminars on the mortgage industry to stay abreast of new trends and products. In November 2007, he opened up his own mortgage office called Fairway Independent Mortgage Corporation.
Bill believes in giving back. In addition to supporting Why Me, Bill sponsors the Make-A-Wish foundation where he gives $100 per closed loan in each client's name. At the end of each year, all the donations collected are used to grant a wish for a child facing life-threatening medical condition in Massachusetts. He has granted 4 wishes thus far, and is working on granting 3 more this year.