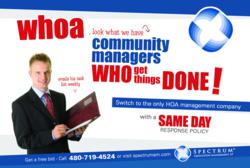 We are expanding our staff now to meet our forecasted growth in the Arizona market.
Phoenix, Arizona (PRWEB) April 24, 2013
The Phoenix HOA management company, Spectrum Association Management, announced today that it's hiring additional community managers.
Spectrum is the fastest growing Arizona HOA management company and has properties across the state. The company opened its doors 12 years ago and is known throughout the industry for its high level of customer service.
"Our community managers maintain a smaller portfolio of properties so we can deliver the level of service our communities expect from us," said Spectrum CEO Andy Hill. "We are expanding our staff now to meet our forecasted growth in the Arizona market."
Spectrum's Arizona headquarters are in Gilbert, which is the fastest growing city in the state. It maintains a satellite office in Scottsdale as well.
Spectrum's announcement comes at a time when other Phoenix HOA management companies are downsizing and moving to outsource their customer service departments. One of the largest Association management companies in Arizona recently decided to route all calls from Arizona homeowners to Las Vegas.
"Our model is completely different," Hill said. "When a homeowner has a question or a Board member needs some information we believe they are best served by speaking to someone who personally knows their community and has driven its streets."
Spectrum Association Management does not use call centers. Community managers, site managers, bookkeeping staff, and other specialists handle every phone call or email. The company has spoken out in the past against the call center trend in the Phoenix HOA management industry saying it lowers the level of service communities receive and hurts the industry's overall reputation.
Spectrum said it is receiving quite a few applications from employees of other management companies who are concerned about the downsizing in the industry and are hearing about Spectrum's commitment to customer service from Board members throughout Arizona.
Spectrum is an Equal Opportunity Employer and encourages all to submit an application on the company's website at http://www.spectrumam.com. The company hires individuals with and without experience in the HOA management industry. The main requirement for employment at Spectrum Association Management is having customer service in your DNA.