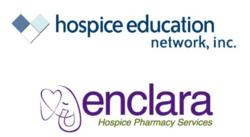 Education is a fundamental component of quality hospice care.
Hyannis, MA and West Deptford, NJ (PRWEB) April 23, 2013
In the midst of reimbursement rate cuts and escalating costs, an innovative new partnership allows hospice providers to access affordable education. This unique collaboration between Enclara Health and the Hospice Education Network(HEN) brings cost-effective, quality online education to hospice staff and volunteers.
This agreement between a leading provider of hospice pharmacy services, Enclara, and HEN, offering the most comprehensive library of hospice online learning courses, translates into a significant savings for hospices of all sizes. Enclara-partner hospices will receive 10% off of a 5-course subscription fee, enabling their staff and volunteers to view their selected five courses for one year – 24/7 from any computer, smartphone or tablet.
"When we founded HEN we were committed to providing flexible pricing to afford all hospices the ability to access high-quality education delivered by national experts," stated Heather Wilson, CEO of HEN. "This agreement with Enclara, a national pharmacy services provider, expands upon that commitment."
Enclara's partner hospices can access this discount starting May 1, 2013 by visiting the Enclara Client website to download a HEN order form that includes the discount. Then, using HEN's online catalog, Enclara clients can select their courses, add them to the order form and fax or email it to HEN.
"Education is a fundamental component of quality hospice care. The HEN modules are in addition to our other educational support, related to achieving best clinical outcomes through appropriate medication utilization and overall drug cost management. Our hospice partners continue to be challenged with increasing costs and decreasing reimbursement, with a regular need to invest in staff education. This offering ensures access to stellar educational opportunities, and enhances the care offerings to patients and families," explained Andy Horowitz, Enclara's Founder and Chief Executive Officer. "This affiliation with a national leader in hospice education is not only good for our partner hospices, providing access to needed continuing education opportunities, it is a gift to their future patients and families."
The Hospice Education Network provides educational resources to hospice, palliative care and healthcare organizations serving the seriously ill, dying and grieving. Using the latest e-learning technologies, HEN's comprehensive course catalog, flexible pricing and easy-to-use system enables organizations of all sizes to provide the highest quality education to staff and volunteers. http://www.hospiceonline.com
At Enclara Health, we support our hospice partners through cost effective, clinical excellence in both mail order and local pharmacy access. In six years, Enclara has grown to service over 20,000 patient lives, nationally, and is known as leading choice in hospice pharmacy providers. Enclara is committed to meeting the unique and changing needs of the hospice market and truly demonstrate that there is a difference in hospice pharmacy providers. For more information, visit http://www.enclarahealth.com.