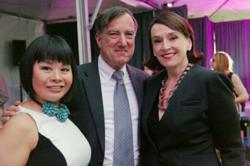 San Francisco, CA (PRWEB) April 23, 2013
Academy of Art University President Elisa Stephens was among those honored last week at Standing Ovations VI (http://www.sfstandingovations.com), "a celebration of San Francisco style" sponsored by the San Francisco Museum and Historical Society.
The evening gala, held at Mint Plaza, also featured a show of fashion designs by Academy School of Fashion students and alumni.
Each year, Standing Ovations celebrates the historic achievements of those who have contributed to San Francisco's cultural heritage. Historic Contributions Awards are made for, in the Museum and Historical Society's words, "the people that bring fashion to the people of San Francisco". A Rising Star Award is also granted to an emerging talent from the world of fashion design or retail. This year's event was conducted at the city's Old Mint, the future site of the San Francisco Museum at the Mint.
In addition to the Stephens family, others awarded on April 18 were Wilkes Bashford, Levi Strauss & Co., Macy's, the Sockolov Family and Sara Shepherd, a 2005 BFA graduate of the Academy of Art University's School of Fashion who received the Rising Star Award in recognition of her successful fashion career. An exhibition in the Old Mint titled San Francisco Style, showcasing the styles and fashions of San Francisco throughout history, debuted on the evening of the event and opened to the public April 20.
The San Francisco Museum and Historical Society is the focal point for discovering the history of the Bay Area, including the creation and ongoing operation of a world class museum in San Francisco's Old Mint. This National Historic Landmark at Fifth and Mission Streets will be transformed into the San Francisco Museum at the Mint where visitors can experience the stories that shaped San Francisco through state-of-the-art interactive exhibits. The museum will also contain exhibits on American money and the Gold Rush and provide a rich educational experience. The project has entered its second phase, a $60 million campaign to complete design and construction.
About the Academy of Art University
With more than 18,000 students, Academy of Art University is the nation's largest private art and design university. Established in 1929, the school offers accredited AA, BA, BFA, MA, M.Arch and MFA programs in 21 different majors, as well as continuing art education, with classes in Acting, Advertising, Animation & Visual Effects, Architecture, Art Education, Art History(BFA), Fashion, Fine Art, Game Design, Graphic Design, Illustration, Industrial Design, Interior Architecture & Design, Jewelry and Metal Arts, Landscape Architecture, Motion Pictures & Television, Multimedia Communications, Music Production & Sound Design for Visual Media, Photography, Visual Development and Web Design & New Media. Students can also enroll in flexible online degree programs in most majors. Academy of Art University is an accredited member of WASC (Western Association of Schools and Colleges), NASAD (National Association of Schools of Art and Design), Council for Interior Design Accreditation (BFA and MFA-IAD) and NAAB (M-ARCH). For more information, visit http://www.academyart.edu or call 1-800-544-2787.
##