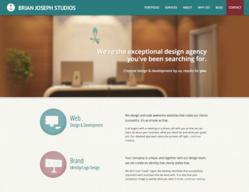 Our experience and skill has helped hundreds of clients in Florida. We're excited to do the same for clients in and around Raleigh, North Carolina now.
Raleigh, North Carolina (PRWEB) April 24, 2013
Brian Joseph Studios, a web design company in Raleigh, NC, has opened a new office in Cary, North Carolina to provide local and personal service to clients in surrounding cities.
With a team of web designers and developers, and graphic designers already based in Naples, Florida, Brian Joseph Studios will begin to build a local Raleigh-based team. "Face to face meetings and personal collaborations with clients are an important and enjoyable part of the work we do, and the things we create with them. Being able to live and work in the same community as our clients is part of our foundation here at Brian Joseph Studios," says Owner and Creative Director, Brian Yerkes.
Brian Joseph Studios' website has also been updated to reflect this new expansion into the Raleigh market, with several new pages providing specific area based information to assist local clients with targeted news and content.
With over 10 years of experience in web design and development, identity/branding design and graphic design, Brian Joseph Studios works with companies of all sizes, and their client list spans the globe with successful clients all over the USA, and in places like Ireland, England, Italy and Australia.
As a new web design company in Raleigh, services that Brian Joseph Studios are now providing include custom WordPress design and development, ecommerce, email marketing, SEO, social media marketing and more. They are also an experienced branding company offering identity design, print design and overall company branding for businesses in several industries.