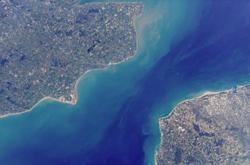 "Crossing the Channel" will be a spectacular program, custom fit for First Church's outstanding choir and organ.
Philadelphia, Pennsylvania (PRWEB) April 23, 2013
On Sunday, April 28th at 7 p.m. Concerts@First presents "Crossing the Channel". The Chancel Choir of First Church takes the spotlight to perform a program of French and English music, with Andrew Senn conducting and Bernard Kunkel at the organ. Taking advantage of the church's unique situation with Chancel and Gallery organs, the choir will sing the Messe Solennelle, or Solemn Mass, of Louis Vierne. This work, composed when Vierne was titular organist of the Cathedral of Notre Dame in Paris, features the choir accompanied in surround sound! Paired with the Vierne will be a set of four motets by famed organist Marcel Dupré, who himself was a pupil of Vierne.
Writing music in England at the same time as Vierne, but in a very different style was Sir Edward Elgar. Known for his lush and dramatic orchestral music, Elgar also wrote large-scale choral works. Two of his "monster" anthems will frame the concert. "Give Unto the Lord" (Psalm 29) will open the concert, and "Great is the Lord" (Psalm 48) will close the program. In this last piece, there is a short but exquisite baritone solo, which will be sung by 2013 Metropolitan Opera National Council Auditions winner Musa Ngqungwana.
This will be a spectacular program, "custom-fit" for First Church's outstanding choir and organ. Tickets are $10, and are available from the church office in advance or at the door on the evening of the concert at The First Presbyterian Church in Philadelphia, 201 South 21st Street (21st & Walnut Streets).
This concert marks the end of the 2012-2013 Concerts@First season. Plans for the 2013-14 season are well under way. Highlights are a music competition on Sunday, April 6, 2014: "Ensembles Assemble", the now-traditional Halloween organ/silent film event, an organ recital by Andrew Senn, and a season-ending concert by the Chancel Choir.
About Concerts@First: The mission of Concerts@First is to present a series of high-quality musical concerts each year that provide cultural enrichment for the members of First Church and the surrounding community. The ability of Concerts@First to provide the very best of musical programming depends on donations received from generous supporters. Concerts@First is a program of The First Presbyterian Church in Philadelphia.