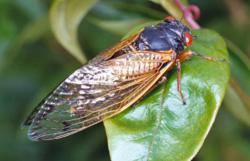 Pinpoint the day the Brood II Cicadas will emerge, with Sutron's sophisticated soil temperature monitoring system.
Sterling, VA (PRWEB) April 23, 2013
Sutron Corporation, a global leader in environmental monitoring, has put its sophisticated monitoring systems into action to provide real-time tracking and alerting of the local ground temperature and the best data on the pending emergence of the Magicicada septendecim or Brood II.
This particular Brood resurfaces every 17 years, and it is predicted that there will be up to one billion cicadas per square mile in some areas. They will break free from the ground when the ground temperature reaches 64 degrees Fahrenheit, thought to be anywhere from late April through early June. But no one is quite sure exactly when that will be.
Sutron has installed a soil temperature monitoring station in the Northern Virginia area, which will provide a good indicator for the entire DC metro area. Area residents can track it here: http://cicadatracker.sutron.com/cicada/tw/.
This station consists of a research-grade soil temperature probe that is buried eight inches in the ground. Data points are collected every 15 minutes, around the clock, by a Sutron model 8310 datalogger. The datalogger then transmits the data via wireless telemetry to Sutron's web-based data portal, SutronWin. SutronWin can then send alerts to scientists and other interested parties when certain temperature thresholds are reached.
About Sutron Corporation
Sutron Corporation, based in Sterling, VA, has been providing solutions to collect, measure and transmit critical data for air, water, weather and geotechnical monitoring applications since 1975. Sutron systems are currently operating on every continent, in every climate and on every ocean to provide critical real-time environmental data. Learn more at http://www.sutron.com.