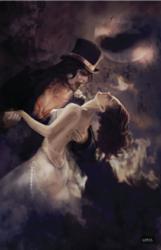 The undead are on the rise.
Toronto, Ontario (PRWEB) April 23, 2013
Alamptria 1: Bloodstone Crypt will be re-released with a new title and format in May 2013. Unique characters, entangled plots, suspense, surprise, and intense action make Richard A. Valicek's tale one of the most innovative novels of this decade. Originally released in 2011 under the title Alamptria: Red Moon Rising, the novel won the Buzillions Reviewers choice award.
In the dark recesses of Mount Drone in the far off land of Alamptria, the undead gather to launch an attack on the peaceful medieval kingdom of Elysium to overpower and subsume the human race. The royal family's three sons, knights with extraordinary claymores of power, lead their army, a host of magical creatures, and their own fears, triumphs, and humour, into vicious, glorious battles. When the fiancée of one of the Seaton brothers is kidnapped by Tyrus Clore, head of the vampire cult, it's a race against time to save her before she is transitioned to the undead and Clore unleashes the vampire minions on humankind.
Readers have claimed Alamptria 1: Bloodstone Crypt has distinct echoes of J.K. Rowling and J.R.R. Tolkien. The novel is innovative while building on the vampire tradition as created by Bram Stoker. "In the literary world where we are heavily bombarded with vampire stories appealing to a young generation, I went back to the original vampire tale and built on its complexity and history to give readers something that's entirely new," says Valicek.
Richard A. Valicek lives in Toronto, Canada. He holds a certificate from George Brown College in Liberal Studies and a diploma in Graphic Design.
Alamptria 1: Bloodstone Crypt will be released in early 2013 Double Dragon Publishing. The book will be available at thousands of retailers nationwide both in stores as a trade paperback and online for the Ibook, Nook, Kindle, and Epub.
For further information about Alamptria 1: Bloodstone Crypt, visit http://www.alamptria.com or contact the author at 416-570-5655.
###