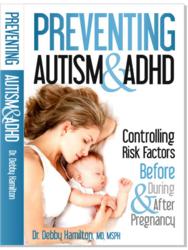 Boulder, CO (PRWEB) April 23, 2013
Autism and ADHD rates continue to rise rapidly with one in 50 children now having autism and one in nine having Attention Deficit Hyperactivity Disorder. Medical researchers continue to announce new risk factors for these diseases.
To help women lower their risks for having a child with autism & ADHD, Dr. Debby Hamilton, MD, MSPH, announced that her new book will be available on June 9th, entitled: Preventing Autism & ADHD: Controlling Risk Factors Before, During and After Pregnancy.
She also announced a new website BeginningHealth.com for educating women on how to have a healthy baby.
During six years of research she reviewed hundreds of published medical research studies about risk factors for autism. She also compared the medical histories of both women who have children with autism and those who have healthy children. From this research she has built a strong science-based case that rates of autism & ADHD can be reduced through improved new mother and baby health, starting before pregnancy and continuing through pregnancy and the first years of life.
In her comprehensive and clearly written book, Dr. Hamilton explains how most risk factors are modifiable. She describes the mother/baby health interrelationship and how women can improve nutrition, digestion, toxin avoidance, immune function, and hormones to reduce their child's risks for these diseases.
Dr. Hamilton said, "Our children are our future. Let's give them the best chance we can, starting with healthy women having healthy babies."
###
The book will be available on June 9th.
Pre-publication proof copies of the book are available now - contact mark(at)HedwinPress(dot)com.
Dr. Hamilton is a medical doctor, a certified pediatrician, has a Masters of Science in Public Health degree, is certified in alternative medicine and is a certified physician nutrition specialist. She founded Holistic Pediatric Consulting in 2005 in Boulder, Colorado specializing in the treatment of autism and other chronic childhood health issues.