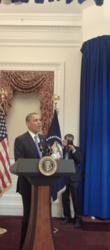 Carlsbad, CA (PRWEB) April 22, 2013
Aventyn Founder and Chief Executive Officer, Navin Govind was an attendee at the National Small Business Association (NSBA) Washington Presentation in Washington, D.C. on March 18 and 19, 2013.
As part of the NSBA delegation, Navin Govind participated in several activities aimed at providing small-business owners the latest updates on federal legislation, as well as increasing policymakers' awareness of critical small-business issues. The delegation heard from a host of leaders and lawmakers including: Sens. Mark Begich, Heidi Heitkamp and Al Franken, and Reps. Tom Rice, Scott Tipton, Chellie Pingree, David Schweikert and Bill Owens.
Navin also heard from keynote luncheon speaker, the Honorable Jim Nussle, former Chair of the House Budget Committee and Director of the Office of Management and Budget, who talked about the federal deficit.
A highlight of the event, during the White House Briefing where the NSBA delegation heard from a number of key personnel, President Barack Obama stopped by and spent nearly 30 minutes to talk about the importance of small business and took many questions from the small-business owners in attendance.
The next day, Navin was scheduled to meet with the offices of Sens. Dianne Feinstein, Barbara Boxer and Rep. Darrell Issa where he talked about critical issues ranging from contracting to immigration and health care.
About Aventyn Inc.
Aventyn Inc. is a health technology company delivering innovative, standards based secure core to cloud connected clinical information processing solutions. The company's CLIP®Care EMR solution with CareLock™ health information security and integrated wireless bio-sensor capability enable continuity of care anytime, anywhere and anyplace. Vitalbeat–Integrated Chronic Disease Management™ patient personalized solutions are tailored for home and remote monitoring. For more information please visit http://www.aventyn.com. To learn more about NSBA, please visit http://www.nsba.biz.
CONTACT:
Puja Chandler
Email: info(at)aventyn(dot)com
Phone: (231)794-BEAT