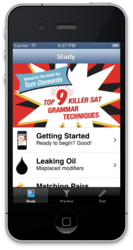 The key to dominating the SAT Writing section is now at your fingertips with this cool new interactive app that actually makes learning SAT grammar fun!
San Francisco Bay Area, California (PRWEB) April 24, 2013
With the May and June SAT tests just around the corner, students across the nation are gearing up to boost their scores on the Writing section of the SAT. Coming to their aid with two important "Killer SAT" tools for Writing success is Tom Clements, a experienced educator who's helped thousands of students ace their SATs.
Tom is the author of the award-winning book "How to Write a Killer SAT Essay", a top-seller in the Test Prep category on Amazon for over a year and available in local and international bookstores. Using real essays from real students who've achieved top scores, he stresses writing fundamentals: tight-knit organization, varied sentence structure, interesting transitions (both between and within paragraphs) and the virtue of pre-fabricating content examples prior to the actual test. He's been teaching these essay writing principles with his SAT students since the new SAT with essay debuted in 2005.
Now, in addition to Tom's Killer SAT book, he announces the release of his "Killer SAT Grammar" app, the companion piece to his book that every student needs for an impressive score on the Writing section of the SAT.
Clements, who is a leading SAT tutor in the San Francisco Bay Area, explained that his app is an interactive game that boils SAT grammar down to 9 user-friendly grammar rules -- that's it, just 9! -- which allow students to ace the SAT Writing section. Graphics enhance the 9 rules and embedded slideshow movies make each rule easy to learn and fun to understand. Interactive practice questions reinforce grammar concepts and a complete Writing test is included to provide real-world SAT context. The "Killer SAT Grammar Game" is sold in countries around the world for iPhones and iPod Touches in the iTunes App Store.
As a professional writer, former college English teacher and long-time SAT tutor, Tom Clements has helped hundreds of students ace the SAT essay. Now, with the release of his new "Killer SAT Grammar" app, students can dominate the Writing section with both top-scoring essays and foolproof grammar strategies.