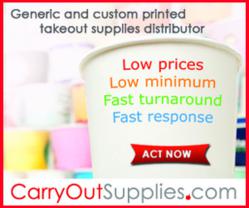 The right paper cups, disposable ice cream containers, or plastic cups are just a few clicks away.
City of Industry (PRWEB) April 23, 2013
In early April, 2013 CarryOutSupplies.com launched the new version of their web store developed on enterprise-level web shopping cart platform.
To make their website more user friendly, the new version of CarryOutSupplies.com web store incorporates a new navigation interface that allows visitors to look for products by category, type of their business and product brand. The newly added product selection filters also enable visitors to further narrow down their search to find the most suitable products. The right paper cups, disposable ice cream containers, or plastic cups are just a few clicks away.
"Our goal is simple: To provide the smoothest experience possible when restaurant operators, business owners come to our web store to search for products they need for their day-to-day operations," says Waylon Huang, VP of Operation at CarryOutSupplies.com. "We want our web store to be not only aesthetically pleasing, but also accessible and easy to navigate."
To coincide with the new website, new to go box products, such as Southern Champion ChampPaks have been added, giving customers more options. Online pricing for the new CarryOutSupplies.com has also been completely revamped. Tier pricing has been introduced to virtually all products. This directly translates to lower prices for restaurant operators.
CarryOutSupplies.com is also leveraging its national distribution locations and logistic channels to ship products closest to their clients at the low with fast delivery.
"To this end, we're confident that we have taken a giant step in the right direction to serve our clients better by offering the best service and quality products that our customers need and demand," stated Mr. Huang.
Coffee shops, delis and food-service businesses of all sizes – from mom-and-pop shops to large franchises – can learn more about CarryOutSupplies.com's selection, features and pricing by visiting the company's website. They can also be contacted by calling 888-982-1862 Monday through Friday, from 9am to 6pm (PT).
About CarryOutSupplies.com
CarryOutSupplies.com, the leader in paper and plastic disposable takeout supplies, is dedicated to offering quality products, low prices and reliable customer service. The company started serving the local marketplace in 2004 and expanded its operations in 2007 to serve nationwide demands. Throughout its history, the company has experienced growth every year by maintaining and increasing a loyal clientele, and offering competitive prices and convenience with its free custom print service for custom paper cups and custom plastic cups. Learn more at CarryOutSupplies.com.