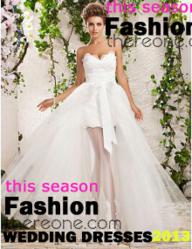 Thereone Released its Evening Dresses 2013 Collection
(PRWEB) April 23, 2013
Today, Thereone, the leading online retailer of wedding dresses and party dresses, released its evening dresses 2013 collection.
Last month, Thereone.com launched its party dresses promotion 2013 and provided a great discount on these new dresses. Today, the company released its new styles of evening dresses.
An evening dress is a special dress that a woman wears to a formal occasion in the evening. Formal occasions include weddings, formal dinners, and charity parties and so on. Evening dresses can make a girl feel like a star or a princess.
James, husband of a customer says: "My wife got the dress and tried it on and this dress is far more beautiful in person than online. She tried on dresses in evening dress shops and this dress is by far better than any dress in those shops. The beading, color and fabric are amazing."
In addition, Thereone.com is offering more than 1000 different styles of women's dresses, including vintage wedding dresses, beach wedding dresses, colored wedding dresses, mermaid wedding dresses, and princess wedding dresses and so on.
About Thereone.com
Founded in 2009, Thereone.com is the leading supplier of wedding dresses, special occasion dresses, wedding party dresses and formal dresses. The website is committed to developing cheap and high-quality women's dresses for customers. Good customer service, high quality, fast delivery, and competitive prices, are the reasons to choose Thereone.
For more information, please visit http://www.thereone.com/