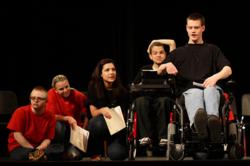 "Theater has enabled these young actors to express themselves, step out of their shell and gain a greater awareness of and sensitivity toward others." Toby Orenstein, CCTA Founder & Artistic Director
Columbia, MD (PRWEB) April 24, 2013
National Endowment for the Arts (NEA) Acting Chairman Joan Shigekawa announced today that the Columbia Center for Theatrical Arts, Inc. (CCTA) is one of 817 nonprofit organizations nationwide to receive an NEA Art Works grant. CCTA is recommended for a $10,000 grant to support innovative programming for special needs youth and young adults. The unique design of this program offers theatrical experiences that are therapeutic as well as inspirational in partnership with speech-language pathologists, special education instructors, the local school system and the CCTA staff.
The program began in 2009 with the creation of a musical theater class for special needs youth ages 11 – 15 in collaboration with Loyola University Maryland Clinical Center. Since that time, it has expanded to include a third partner – the Howard County (MD) Public School System – now features classes at two public schools, a Saturday morning session for young students and a new theater group for young adults. A camp for middle school-aged students is planned for this summer. Each session culminates in a performance of the selected or original musical production for friends and family. Participants are joined by typically developing peers – siblings, fellow students and CCTA musical theater students –who model behaviors and work side-by-side with these actors to form a cohesive and inclusive cast.
"We are very proud to be awarded this grant which recognizes the hard work and commitment of our staff, community partners and students," said CCTA Artistic Director Toby Orenstein. "Theater has enabled these young actors to express themselves, step out of their shell and gain a greater awareness of and sensitivity toward others. Along the way they acquire a better understanding of body language and eye contact. Their friends, teachers and families watch as audience members, reveling in students' progress and newly gained self –confidence. Last, but certainly not least, they have a blast!"
Acting Chairman Shigekawa said, "The National Endowment for the Arts is proud to support these exciting and diverse arts projects that will take place throughout the United States. Whether it is through a focus on education, engagement, or innovation, these projects all contribute to vibrant communities and memorable opportunities for the public to engage with the arts."
In August 2012, the NEA received 1,547 eligible applications for Art Works grants requesting more than $80 million in funding. Art Works grants support the creation of art that meets the highest standards of excellence, public engagement with diverse and excellent art, lifelong learning in the arts, and the strengthening of communities through the arts. The 817 recommended NEA grants total $26.3 million and span 13 artistic disciplines and fields. Applications were reviewed by panels of outside experts convened by NEA staff and each project was judged on its artistic excellence and artistic merit.
For a complete listing of projects recommended for Art Works grant support, please visit the NEA website at arts.gov.
# # #
The Columbia Center for Theatrical Arts (CCTA) is a well-respected arts nonprofit with 40 years of experience and service to the youth of the Baltimore-Washington area. It was founded in 1972 by Toby Orenstein with a mission to educate through the arts by creating theatrical experiences that inspire thought, action, creativity and change. CCTA serves approximately 30,000 children annually with a CONSERVATORY program of classes, camps and workshops; THEATRICAL PRODUCTIONS offering performances for schools; and an OUTREACH PROGRAM that makes theatrical experiences accessible to low income and special needs youth.