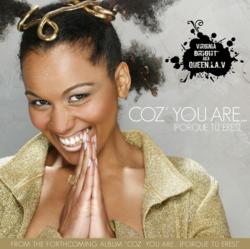 Miami, FL (PRWEB) April 24, 2013
European/Spain – UK, Super Star, Virginia Bright a.k.a Queen La V, formerly known as Virginia Buika for her Acting and Music. She has opened for International Icon, Don Omar, Collaborated with three time Grammy Winner, Composer Victor Daniel on Virginia's first single, "Don't you Cry / La Vida es un Carnavel (airplayed in 9 different countries and broadcasted on MTV, MTV Base, RAI2 (Italy), SKY TV (UK), JVC (Jamaica) to mention just a few)," Music Artist Edu Del Prado, Pepe Dougan (Luis Miguel, Soul 2 Soul, Martha Sanchez…), Dancer Choreographer, Legendary Poppin' Pete.
Known for her eye opening documentary "Can we Take the Blindfolds Off?" in 2011, featuring commentaries from Hollywood Icons such as Danny Glover, Spike Lee, Eric Lasalle to name a few. Director, Producer, Actor, Musician blends her multiple talents to create projects that send positive messages in an artistic light.
Last September, she digitally released her single, "I'm Back for more." Virginia Bright is currently working on her up and coming Album "Coz you are/ Porque tu eres"," coming early 2014, which will be the featured soundtrack for her film production, which is also titled, "Coz you are/ Porque tu eres."
Virginia Bright is currently available for interviews regarding her recent brand partnerships with Vogue Magazine's 2009 "One to Watch" & Celebrity Favorite, London Fashion Designer, Samantha Cole London. Other previous partnerships included brands such as: MTV, Sketchers, European Hip Hop Awards (Barcelona – Irene Pallares).
"Our merging venture with Samantha Cole London opens up the opportunity for new brands and partners to join forces for our next season launching September 2013.
For Interview requests and other Press Inquiries, Please Contact:
Carol Moda, Publicist
Carol Moda Creative, Inc.
(786) 505 - MODA
carol(at)carolmoda(dot)com
For Bookings, Management:
LOS ANGELES / SPAIN
15260 Ventura Blvd. Suite 1200 C/ Gallegos, 8.
Sherman Oaks Alcala de Henares
CA 91403 28806 Madrid
TEL: +1 626 217 5894 TEL: +34 918 811 231