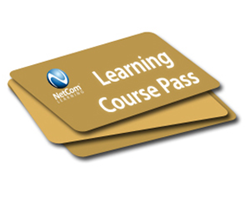 New York, NY (PRWEB) April 24, 2013
NetCom Learning is offering a new way to save money on training costs with its Learning Course Pass program. Purchase course registrations in groups of three, five, ten, twenty or fifty and organizations will see significant savings in the cost of the training sessions. In addition, the price of the courses will not increase over the next year and organizations will be able to take advantage of NetCom Learning's customized reporting and tracking of training expenditures.
The Learning Course Pass (LCP) is every organization's way to economically get their staff trained in the latest technologies at the best price from an award winning training organization. Keeping staff current with new software and the best in information technology certifications is what will keep companies growing and revenue increasing. With the Learning Course Pass, NetCom Learning is making it easier than ever before to stretch those training dollars and keep staff technology savvy.
When signing up for the Learning Course Pass, professionals get all the authorized books and training that comes with the course*. LCP's can be used for all methods of training that is available including Private Training for ten or more students. In addition, for each registration NetCom Learning contributes one year of primary education for a student in a disadvantaged country through the Love of Learning program.
Why is the Learning Course Pass so important for organizations? The answer is that NetCom Learning is the training company to trust and that the company offers the most versatility in training including Live Online Training from anywhere in the world, standard training at NetCom's three convenient locations, accelerated training, boot camp training or customized training onsite. The Learning Course Pass lets an organization take advantage of the top notch training and instructors available at NetCom Learning at reduced prices.
NetCom Learning is an innovative leader in IT, business and executive training to companies, individuals, and government agencies, dedicated to promoting the values of lifelong learning. NetCom Learning has trained over 80% of the Fortune 100 and helped advanced the skills of more than 71,000 professionals.
NetCom Learning's instructors possess an average of 16 years of experience and routinely achieve high ratings from their students with an average instructor evaluation of 8.6 out of nine, one of the highest instructor evaluations in the industry. The high quality of training has resulted in over 1,700 testimonials and a 96% customer satisfaction rate with those customers indicating they would recommend NetCom Learning to others. The company offers more than 1000 courses through a partnership with twenty vendors providing coursework that prepares students for certification in the top vendor IT technology. NetCom Learning has also recently earned an NPS score of 65 which is much higher than average. NPS scores are used to gauge customer satisfaction and loyalty, a score of 50 is considered to be excellent.
NetCom Learning is also an award winning company and the winner of awards from such organization as the American Business Award, Microsoft's Training Partner of the Year, Brandon Hall Award and Inc's list of 5000 companies.
*Certain restrictions apply to the Learning Course Pass program. Purchase of a Learning Course Pass excludes exam vouchers, travel, location amenities which can be purchased separately. Full payment is due at the time of registration and payment is non-refundable. Courses excluded from the program include: Citrix, VMware, Red Hat, and other partner-delivered courses. To see a complete, current listing of the excluded courses, please visit Exclude Courses Page. This program cannot be combined with any other NetCom savings programs or promotions.
For more information or to purchase Learning Course Passes, visit the NetCom Learning website at http://www.netcomlearning.com/education/learning-course-pass.phtml?advid=412.
Upcoming training events include:
May 6 | Project Management Professional: PMP Certification
May 6 | CCNA and CCENT Certification (ICND1 and ICND2)
May 6 | Train the Trainer (CTT+ / MCT)
May 6 | Security+ 2011 Certification Boot Camp
May 6 | MCSA: SQL Server 2012 Boot Camp
May 13 | CEH: Certified Ethical Hacker Boot Camp
May 13 | AutoCAD 2013
May 13 | Linux+ Certification (Linux+, LPIC-1 and Novell CLA 11)
May 13 | MCTS: .NET Framework 4, Data Access and Web Applications
May 20 | MCSE: SharePoint
May 20 | Microsoft SharePoint 2010 End User, Site Owner and Designer
May 20 | MCTS/MCITP & MCSA: Windows 7 Boot Camp
To see upcoming training events: Click here. For more information contact us at info(at)netcomlearning(dot) or at 1-(888)-563-8266
About NetCom Learning
NetCom Learning is an innovative leader in IT, business and executive training to companies, individuals, and government agencies. Since its inception in 1998, NetCom Learning has trained over 80 percent of the Fortune 100, serviced over 45,500 business customers, and advanced the skills of more than 71,000 professionals through hands-on, expert-led training, with the organization maintaining an average instructor evaluation score of 8.6 out of 9. NetCom Learning was recognized by Microsoft Corporation as its Worldwide Training Partner of the Year and named thrice to Inc. Magazine's list of fastest growing private companies in America. The organization was also recently named to the 2012 Top 20 IT Training Company by TrainingIndustry.com and was named "Company of the Year" by the American Business Awards.
The purpose of NetCom Learning is to promote the values of lifelong learning.