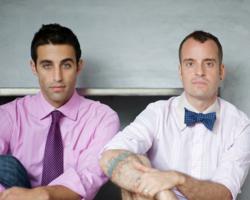 "When something is taken away from one person, it is taken away from all of us," says Joshua Rose. "We want to communicate this experience through our LEGENDS design concept."
Los Angeles, CA (PRWEB) April 23, 2013
From May 8th to May 10th, La Cienega Design Quarter will celebrate the 5th anniversary of LEGENDS with the theme "Time Capsule." Like every year, 44 of the design shops and galleries in the La Cienega Design Quarter will be imaginatively transformed by the nation's most creative designers to reflect the LEGENDS theme.
Intending to prompt viewers to question and possibly reexamine their perspectives on tolerance throughout time immemorial, the progressive and talented design duo of FORM have chosen the Antonio's Bella Casa window to present a visual paradox—beauty (in design) under the barbaric restraint of discrimination and inequality.
Designers, as artists, must sometimes adjudicate on societal subjects. For Joshua Rose and Rafael Kalichstein of FORM, the theme of denouncing the past to build a better future will be carried throughout their window's concept to move people beyond preconceptions. Until 1868, in this country, the 14th Amendment had not been ratified by all of the states in the Union. Once it was adopted—at least outwardly—the citizens of the United States of America were protected by "equality under the law." Since then, the consistent undercurrent of the national struggle has been inequality. FORM will address this incongruity in their window concept, along with undercurrent perspectives on human rights, same sex marriage, and societal values.
As a master of the art of visual effects and an Emmy Award winner, Rose will help start the dialogue with a high sense of drama, intrigue, and everything one would expect from a leader in the entertainment industry. Perhaps the most thought provoking imagery will be the window's visual impact. FORM will present a world of distortion with suspended objects—as if everything were suctioned from the room—just as one could have his or her inalienable rights taken away.
"When something is taken away from one person, it is taken away from all of us," says Rose. "We want to communicate this experience through our LEGENDS design concept."
To bring in the element of beauty, FORM has sourced the most exquisite fabrics, generously donated by Robert Allen/Beacon Hill; to set the stage of their story, they are aided by the talent of fine artist Cole Sternberg and the panache of celebrity stylist David Royer. Sternberg creates a layered textural installation in wallpaper width strips, representing the repetition of history and the tapestry it weaves when moments are strung together. Over and over again, he writes the words "One day," whose meaning is left open for interpretation. From afar, he has, in effect, supplied a rose wash over the scene, which harkens back to the words of Doris Kearns Goodwin: "The past is not simply the past, but a prism through which the subject filters his own changing self-image." Royer's talents are reserved for the heroin of the installation who, even in this moment of chaos, looks her most glamorous.
Kalichstein will temper these thought provoking themes under the harmony of the art of Black (Hat) Feng-Shui, a practice that he integrates in their design work. Together, FORM expects to create an experience for visitors with a shelf life long past the LEGENDS events.
"It's not just about showing off to the community. It's an opportunity to do something different and provocative—to make art," says Rafael Kalichstein. "It's an opportunity to communicate an experience. As a kid, I would go to Bergdorf's in Manhattan and get excited to see the rotating window displays, wondering what they would do next. I'd think about those displays for hours after I left. That's the passion we're trying to revive."
A sumptuous palette of golds, chestnuts, and corals in silk velvets will adorn a custom chair designed by FORM and built by Bespoke Custom Furniture. This chair not only anchors one end of the installation, but will also be donated to the One King's Lane auction to benefit Habitat for Humanity of Greater Los Angeles. In it, too, will sit a striking one-of-a-kind-textile pillow, screen-printed by Cole Sternberg over Beacon Hill silk, which will be one of the highlights of the piece.
LEGENDS of La Cienega is an inspirational celebration of design that has become the most anticipated design event in the country. For FORM, it will be both a chance to display their talents and provoke a higher consciousness in people's minds. Designers, authors, editors and bloggers from around the country will join their counterparts in L.A. and descend on the La Cienega Design Quarter for lively panel discussions, high-profile cocktail parties and receptions, personal appearances, exhibitions, book signings, and special showroom events.
About FORM:
FORM is the collaboration of Emmy award winning designer Joshua Rose and Chinese medical practitioner Rafael Kalichstein. FORM has completed over seventy projects including the US headquarters for multinational film corporation Senator Entertainment, the LA headquarters of hospitality PR giant Wagstaff Worldwide and homes for a host of celebrity clientele. FORM is presently busy developing product lines and designing hospitality and residential projects in Sonoma, CA, Austin, TX, and Beverly Hills and Hancock Park. Joshua and Rafael believe that spaces speak. In order for a design to succeed, it is imperative that the designer listen. For more information, or to schedule an interview with the designers, contact Shaun Thompson PR at (310) 838-0444; shaun@shaunthompsonpr.com.
(http://www.formlosangeles.com)
About Cole Sternberg:
Born in Richmond, Virginia and raised in Saratoga, California, Sternberg earned his BA from Villanova University, and his JD at the Washington College of Law at American University. He uses his legal background extensively in his work, combining a socio-political point of view with a strong aesthetic. Sternberg has exhibited both nationally and internationally, including a solo show at The American University Museum in Washington, DC. His works can be found in major collections and publications throughout the world.
(http://www.colesternberg.com)
About David Royer:
David Royer is a wardrobe stylist and costume designer based in Los Angeles. He has had the privilege of working with many of today's leading artists including Usher, Cody Simpson, RZA, Adele, Britney Spears, Kiss, and many more. Some of the projects he has worked on include the Grammy Awards, the Super Bowl, the American Music Awards and many world tours. He came from humble beginnings in a small southern Oregon town. Through hard work, study at the University of Oregon and MATA London, and with a strong dedication to his craft he has been able to travel the world, creating looks and trends, positioning himself as a sought-after and respected style maker. For more information about David Royer, contact the Margaret Maldonado Agency.
(http://www.margaretmaldonado.com)
About Robert Allen:
The Robert Allen Design Group is one of the world's largest designers of fine fabrics for the interior design trade and is recognized as a brand leader in its field. Based in the USA, the company sells its products under the Robert Allen, Beacon Hill, Robert Allen Contract, and Robert Allen @ Home brands, and is renowned for the Robert Allen Color Library, recognized as the first fine fabric collection to be designed by color. The Robert Allen Design Group has showroom locations throughout the United States, Canada, and the United Kingdom, and an extensive worldwide agent showroom network.
(http://www.robertallendesign.com)
About Antonio's Bella Casa:
Antonio's Bella Casa, where the unique meets the necessary. Ten years ago his desire to travel, eat great food, and shop all day became a reality, once firmly inside the ancient walls of Florence, Italy. The goal was to create a store back home where all the elements of European living could be brought together with the elegant flair of the Italians. From chandeliers to cassetones, garden statues to accessories, interior designers regularly fill their clients' homes with the treasures we bring back fresh from the home land. There are several packed containers a year bringing hand picked merchandise for the home and garden. Whether you're a designer, collector, or homeowner, the goal is to make everyone feel welcomed, relaxed, and have a positive experience.
(http://www.antoniosbellacasa.com)