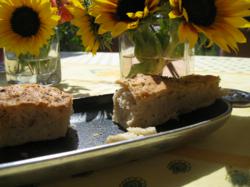 San Diego, CA (PRWEB) April 23, 2013
Lajollacooks4u, a San Diego hands-on culinary cooking company, was selected by Wyndham Jade, an event and travel company, to host the top performers for one of the country's leading US' banks.
Twenty participants gathered in the kitchen of Lajollacooks4u for a fabulous Farm-to-Table and Wine Pairing Cooking Class. Even an unusually La Jolla cold and cloudy day could not damper the groups' enthusiasm.
The first wine pairing included a King Estates Pinot Gris with a gourmet olive oil and salt tasting that Lajollacooks4u Owner and Chef Jodi likes to begin her classes with. "This tasting sets the tone for a fun and interactive cooking class, allowing participants to learn about the foundation of Californian Cuisine," Chef Jodi said.
With the cooking class underway, guests were hands-on as they helped prepare their delicious four-course meal. Homemade flour tortillas, Mango, Brie and Manchego Quesadillas got everyone into the spirit of cooking. Blackened Grilled Grouper Fish Tacos with Chipotle Cream, Marinated Flank Steak with Chimi Churri Sauce and Quinoa with Black Beans and fresh corn completed the entrée. Lemon Crème Brule Tart with Fresh Raspberries and an Italian Moscato was served up for dessert.
"This was such a fabulous group; everyone was eager to participate, "Chef Jodi said. The four-hour class was one filled with much joy and each participant left with a commemorative apron and recipe cards.
Celebrating 30 years of excellence in 2013, Wyndham Jade is an event and travel company specializing in convention housing and registration, meetings, incentives and corporate travel fulfillment. The company employs more than 120 professionals and has annual revenues in excess of $125 million. Wyndham Jade maintains offices in Texas, Arizona, Iowa, Georgia and Washington, DC. Wyndham Jade's ONEsystem+ technology delivers complete housing, registration and travel services in one platform that combines membership databases and customer business rules.
For more information, visit http://www.wyndhamjade.com or call 888-294-1900.
Lajollacooks4u was founded in 2008 and modeled after a European concept. Chef Jodi welcomes guests into her lovely Italian villa for a very special hands-on culinary adventure. Nestled atop Mt Soledad, La Jolla, CA, with stunning views of the Pacific Ocean, guests are shown how to prepare their culinary delights and then, under the direction of Chef Jodi, begin their own preparation. Lajollacooks4u specializes in team-building activities, Farmer Market & Foodie Tours, special occasions and culinary weekends. Lajollacooks4u has enjoyed record growth since its inception and has been ranked a top attraction in La Jolla on the world's largest travel review site, Trip Advisor. For more information, contact Jodi Abel at jodi(at)lajollacooks4u(dot)com or phone - 858-752-4980.
-30-