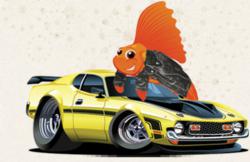 RoadFish.com sees the upswing in credit freezes as a sign of the changing times.
Los Angeles, CA (PRWEB) April 29, 2013
RoadFish.com men's lifestyle and finance magazine today issued their observations surrounding the hot topic of credit or security freezing, the act of disallowing new creditors to view somebody's credit report/credit score. This tactic is used as a way of warding off identity thieves hoping to open a fraudulent account under another's name. RoadFish.com referenced a recent article by Jason Alderman exploring the pros and cons of employing such a strategy, and offered other security tips to consumers that can help protect from an identity thief.
Jason Alderman of Dominican Today reported that identity thieves don't need much these days to open a brand new, fraudulent account under a stolen moniker. Alderman says sometimes all that's needed is a Social Security number, address, and date of birth and that many victims of the growing crime only discover that something's amiss once a credit check reveals a lowered score and/or accounts that they never opened. Alderman states that due to the nature of the crime, and how many different strategies thieves use to get information, a growing number of citizens are choosing to block access to their credit reports with a security freeze. It is their ploy to install a roadblock of sorts so that hackers are unable to open new accounts in their name.
RoadFish.com sees the upswing in credit freezes as a sign of the changing times. RoadFish.com's Senior staff writer is quoted as saying, "As more and more people begin to put security freezes on their accounts—many of them without any reason to believe they've been targeted as a victim—to me simply shows the changing of the times. Technology is advancing and, with it, thieves' maneuvers and techniques for stealing others' personal information. I mean, they have so many ways of getting data these days that it's ridiculous. It's very unfortunate that that is the case, and it seems that consumers are responding in a proactive, if not paranoid, manner."
Alderman states that many employers of the credit freeze have done so in reaction to a crime against them, but a good many more are instating the freeze even when there has not been fraudulent activity. He reports that for somebody to initiate a credit freeze, they must reach out to each of the three major credit bureaus and instruct them to disallow new creditors from viewing both the credit report and score. Without access to a potential borrower's credit, that borrower will be denied—which is exactly how the security freezes deter thieves.
RoadFish.com points out that there are many things that consumers can do these days to lessen the likelihood that they will fall victim of an identity theft. RoadFish.com's Senior staff writer is quoted as saying, "Since people are taking extreme measures to ensure the safety of their credit in credit freezes, it should be noted that there are simple day-to-day things which are very important to remember as well. Some of them I would say are even more integral to one's safety, especially because installing a credit freeze doesn't prevent a thief from continuing to use the existing accounts. People need to mind their phones with personal and bank information on it. I'd recommend always having password protected financial account apps, if any, on your phone. Also making the passwords difficult to emulate or guess is important. And always shred bills or mail with your personal information on it. Being smart on a daily basis is part of being safe overall."
In the above-mentioned article, Alderman recommends getting a freecreditscore check to determine whether there is fraudulent activity on a credit report. This, he states, is an indication that one's identity has been stolen and would be a good time to instill a credit freeze. He states that having a credit or debit card get lost or stolen does not automatically mean that enough information has fallen into the wrong hands to allow them to perform a full scam.
About RoadFish.com:
RoadFish.com prides itself in being a popular online magazine for men. The publication is intended for men in their 30's and 40's, who are earnest achievers and avidly motivated to pursue new goals. RoadFish.com's content includes tips for dating women, luxury items for men, and restaurant reviews. RoadFish.com also writes about personal finance, including debt consolidation, budget-keeping, and what's happening with the global economy. RoadFish.com is owned and operated by Purpose, Inc.