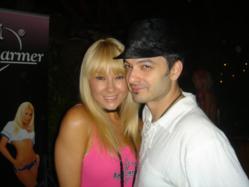 Knowing how to flirt with women effectively is a crucial skill for every man, single or married.
San Mateo, CA (PRWEB) April 30, 2013
The most accomplished flirt not only knows what to say, but he also knows how to say it without even using words, says Dating Expert Carlos Xuma in his new report on how to flirt with a woman.
"The fact of the matter is that much of flirting is done through body language," Xuma says in his new report. "Sure, it does matter what a guy says, but it might matter equally or even more so, what he does, how he stands, whether or not he makes eye contact and so on. Body language is the most effective, if not the most primitive way to not only convey interest, but to gauge interest, as well."
Notes on using body language to flirt are just one portion of techniques and tips for how to flirt with women. He also gives tried-and-true strategies to spark attraction by flirting and explains how to make flirting only the first step in the seduction process.
"But flirting also needs to be put into its proper place," Xuma says in his report. "It is not the ultimate goal. Instead, flirting is a tool to build attraction and also increase intimacy in a relationship. The great thing about flirting is that it is a skill that can be used when a relationship is in a fledgling state, or it can be used to bring back a spark in a long-term relationship."
Knowing how to effectively flirt with women is a crucial skill for every man, single or married, he explains in his report.
"Flirting is merely one tool in a man's arsenal of dating weapons," Xuma says in his report how to flirt with women. "But that is not to say that its importance should be underestimated."
A man who can flirt with the best of them has the power to influence the way people feel, Xuma explains.
"It gets to be sort of like spreading cheer around in a way," Xuma says. "A man who knows how to flirt can make people feel good about themselves at the same time he is building attraction and creating a bond with someone. It's really a beautiful thing."
Xuma's report on how to flirt with women gives hands-on tips that includes not only what to do, but also what not to do in the flirting game.
Carlos Xuma is the author of numerous articles and books, including The Bad BoyFormula, Secrets of the Alpha Male, the Girlfriend Training Program. Xuma has spent more than 10 years teaching hundreds of men important dating skills, such as how to flirt with girls, how to seduce a woman, and how to get women. He has also appeared on ABC and CBS television, as well as Playboy radio.
For more information, visit Carlos Xuma's website at http://www.datingdynamics.com.