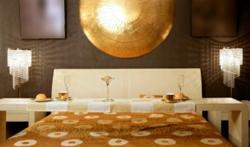 It's best to feel the freedom and confidence to experiment with home design ideas until a harmony is achieved.
San Francisco, CA (PRWEB) April 23, 2013
When it comes to the Spring season, the common adage every year is to clean out of one's home and life the items collected over time that do not serve a current or future purpose. Hoarding "things" that once caught an individual's attention is considered to be a weakness or an act of frivolousness. The perennial adage does apply to the collection of restaurant take-out menus and garage sale flyers, but not to the ephemera of common everyday items that hold special appeal to the pack rat. The power of good design is everywhere, even in the mundane, and encapsulates an idea significant to the holder. This hoarding is often the first step an individual takes towards recognizing an interior style for a room or an entire home. The design of modern furniture styles within contemporary home design follows this idea of less means more. This style is focused on simplicity, the clean lines of geometric designs with solid colors. Collectibles are one of the most popular decor choices to pair with this modern furniture style. To begin a new interior design, start by establishing good organization in the home and by eliminating the items that no longer hold that special charm. Visiting Kindachic.com, a home furnishings and décor website, should be a first step in this spring's process, to review the modern furniture designs for this project.
Anyone new to the idea of modern furniture design must not feel the need for everything in the design to follow in perfect order. Take the opportunity to explore various color schemes with various furniture arrangements in order to find unique but harmonic combinations. Work with one idea at a time and become obsessed with testing every detail of this idea. Do not get bored with this process. Do not fall prey to the narrow definition of being a designer. When working with an idea and pushing the limits of the commonplace, a wonderful set of ideas will come forth. This process can also give rise to multiple design themes being compatible. An eclectic design style is a popular way to unite collectibles. This process of developing a home design can create an exciting interior style. Do not be afraid to experiment and consider visiting Kindachic.com for furnishing or décor ideas to coalesce this personal contemporary home design.
For many people, incorporating the old with the new may seem difficult. However, a room or home design should continually evolve, to be therefore always alive. It takes time to develop one's personal sense of style, space and home. Unless one is adopting a complete interior design from a professional, the home design should develop alongside the lives lived within. The beginning of an idea in one room may actually work better in a larger space. It's best to feel the freedom and confidence to experiment with ideas until a harmony is achieved. Colors can change, a furniture arrangement can shift, a pack rat's collections will grow, as well as the size of a family. The joy from these changes, just as the joy from being a pack rat, help preserve ephemeral moments that would otherwise slip away, forever lost.