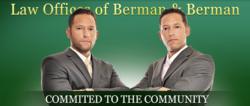 (PRWEB) April 23, 2013
Live chat feature announced on Sarasota Injury Lawyer website by the Law Offices of Berman and Berman, Florida injury and accident attorneys.
The Law Offices of Berman and Berman are proud to announce a new live chat feature on their Sarasota injury lawyer website where all visitors to the site can speak with a live agent. The live chat feautre brings their website up to speed in the 21st century. Live chat is a great new feature that is almost a necessity these days in the modern injury lawyer landscape.
In addition to the live chat feature on the website, there is also a toll free number (877) 529-8995 and a local number that all visitors can call anytime of day and get the help they need in their potential case. Not everyone is a fast typer, so sometimes it is easiest to just call in and speak with a live representative. Regardless of whether a visitor uses live chat or calls in for assistance, they will get answers to their potential legal case.
The Berman Law Group are experienced injury and accident attorneys in Sarasota, Florida. They are able to take cases from many different areas of the legal spectrum, including but not limited to: Personal Injury, Wrongful Death, Product Liability, Workers Compensation, Auto Accidents, Motorcycle Accidents, Workplace Accidents, Family Law, Criminal Law, Toxic Torts, Spinal Cord Injuries, Traumatic Brain Injuries, Burns, Amputations, and much more.
The Berman Law Group is available to assist with many different types of personal injury law cases. They have experience with motorcycle accident cases, truck crashes, and car wrecks. They also are experienced with pharmaceutical class action cases with drugs like Yaz/Ocella, Granuflo, Metal on Metal hip implant surgeries (Zimmer, Stryker and more), Mirena, Januvia, Pradaxa, and more. For information and to find out if you have a potential case, contact the Berman and Berman Law Group at (877) 529-8995.
To access the live chat feature visit their local Sarasota injury lawyer website at http://personalinjurylawyersarasotaflorida.com/ and click the live chat box in the bottom left corner of the screen. From here visitors will be automatically connected to a live chat representative who will be able to provide the help needed to assess the viability of their injury law case.