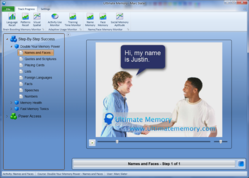 The activity that the scientists located in the brain is proof how sleep greatly assists our memory improvement, in ways not previously imagined.
New York City, NY (PRWEB) April 27, 2013
Ultimate Memory software makers eReflect announced today its excitement about a study which claims that our brains work on improving and consolidating our memory while we are asleep. The research looked into how memory-associated parts of the brain behave when we are sleeping or are under anesthesia. The results astounded the researchers: the different parts of the brain seem to communicate with each other in a manner similar to when our brains try to recall information, even though no conscious effort is being made to do so.
The study conducted by University of California scientists finally reveals why sleep is so important for remembering information and performing well when awake. This study is an important confirmation that even during sleep our brain is actually working hard to consolidate earlier information and to store it for later retrieval. In fact, the sheer amount of memory-related brain activity the scientists found occurring during this time was rather surprising.
"We are overwhelmed with the findings of this study. It is now clear that what goes on in the brain while we are sleeping is significant: while some parts of the brain might be resting, other memory-related areas actually function as much and as hard as when we are awake, commented Marc Slater, director of eReflect. "The activity that the scientists located in the brain is proof how sleep greatly assists our memory improvement, in ways not previously imagined."
Even when there is little sensory input during sleep, the brain seems to be very active. The researchers found that the way brain parts behaved during sleep resembles the activity taking place when we are awake and try to remember things. These new findings turn our understanding of brain function upside down, and forces us to reevaluate our previous beliefs about when and how memory consolidation takes place. This study sheds light on and provides a better understanding of brain processes and how these might be responsible for how information is stored, retrieved, and remembered.
Slater concluded, "This study provides a positive connection between memory and sleep. Knowing how memory improvement actually appears to largely depend on the functions that occur during this period brings into the spotlight the importance of knowing how to prevent memory deterioration by getting enough sleep."
For more information on how Ultimate Memory software can help, please visit: http://www.ultimatememory.com
About Ultimate Memory™
Ultimate Memory™ is the market's leading memory improvement software package.
Scientifically proven to improve memory with as little as ten minute's user per day, Ultimate Memory™ is also backed by an iron-clad guarantee.
Containing many innovative strategies, tutorials, tips and exercises, users benefit from a myriad of varied ways to learn.