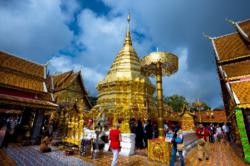 Bangkok (PRWEB) April 26, 2013
Referring to the two provinces as a reflection of "Thailand at its dreamiest," the magazine's Editor at Large Hanya Yanagihar frames both within the broader geographical context of the Golden Triangle, where Thailand borders Myanmar and Laos, and highlights their proximity to the Mekong, one of the most important waterways in Asia and the twelfth-longest river in the world.
The magazine says Yanagihar spent nearly two months on the road as part of "a trip of a lifetime," visiting 24 cities in Sri Lanka, India, Nepal, Bhutan, Myanmar, Vietnam, Cambodia, Thailand, Singapore, Indonesia, China, and Japan and staying in 40 hotels with only one bag.
Chiang Mai and Chiang Rai were covered on Days 26-29 of the Grand Tour and called the best places for "rest and recreation."
The article describes the best of North Thailand in short but concise details, covering everything from visiting elephant farms to the thrill of the early morning alms-distribution ritual to the monks. It contains relevant information for honeymooners and wedding planners, health and wellness visitors, culture-buffs, and nature-lovers.
Said TAT Governor Suraphon Svetasreni, "This publicity is very important for us as it meets our strategy to better spread the distribution of visitor arrivals around the country. As Bangkok and South Thailand beach resorts get the lion's share of visitor arrivals, it is very useful for reputed travel publications such as Condé Nast Traveler to also highlight the attractions of North Thailand."
The Governor noted that both North and Northeast Thailand will soon become more prominent on the visitor circuit as infrastructure linkages grow with the neighbouring countries of Laos, Cambodia and Myanmar.
Other than its beautiful and historic temples, Chiang Mai boasts intriguing diversity among ethnic tribes, a number of elephant camps, many cooking and massage schools, numerous outdoor activities, a variety of handicrafts workshops, various cultural performances, and breathtaking scenery.
In turn, Chiang Rai is considered the quieter neighbor of Chiang Mai, but also blessed with outstanding natural beauty, exotic wildlife, and check out the golden triangle, the former center of the world's opium trade. It was also the first capital of the Lanna Kingdom. Attractions range from ruins of ancient settlements and Buddhist shrines to magnificent mountain scenery and hill tribe villages.
According to Airports of Thailand, international and domestic visitors disembarking at Chiang Mai Airport totalled 2,208,758 in 2012, up 15.17% over 2011. During January – February 2013, international passengers disembarking at Chiang Mai Airport totalled 70,108, up 38.85% over the same period of 2012.
For Chiang Rai Airport, Airports of Thailand figures show that international and domestic disembarking visitors totalled 501,476 in 2012, up 20.09% over 2011. During January – February 2013, international passengers disembarking at Chiang Rai Airport totalled 637, up 18.19% over the same period of 2012.
As of the March – October 2013 winter season aviation timetable, Chiang Mai is served by thirteen airlines, including Thai AirAsia, Silk Air, Kan Air, Nok Air, Thai Airways International, Bangkok Airways, Dragon Air, Korean Air, Air Bagan, China Eastern Airlines, June Yao Airlines, Lao Airlines, and Orient Thai Airlines.
As of the March – October 2013 winter season aviation timetable, Chiang Rai is served by four airlines, including Nok Air, Thai Air Asia, Thai Airways International and China Eastern Airlines.
Contact information:
International Public Relations Division
Tourism Authority of Thailand
Tel: +66 (0) 2250 5500 ext. 4544-48
Fax: +66 (0) 2253 7419
E-mail: prdiv3(at)tat(dot)or(dot)th
Web site: http://www.tatnews.org