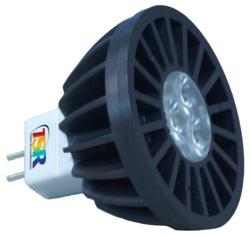 Narrangansett, Rhode Island and Philadelphia, Pennsylvania (PRWEB) April 23, 2013
At LIGHTFAIR® International 2013 today, Thermal Solution Resources, LLC (TSR) introduced the world's smallest wireless LED lamp – the intelliSSL™ MR16 – which can be controlled remotely from iOS, Android or Windows® smartphones, tablets or PCs. The intelliSSL lamp incorporates an ultra-compact driver architecture with a powerful antenna system, designed to maximize reception strength, and uses the ultra-low-power JN5168 wireless microcontroller from NXP Semiconductors N.V. (NASDAQ: NXPI). The TSR intelliSSL wireless MR16 lamp will be featured in the NXP booth this week at LIGHTFAIR (no. 2453) and the LEDdynamics booth (no. 100), as well as the ZigBee® Alliance booth (no. 3251) as part of a ZigBee Light Link network.
The patent-pending intelliSSL design provides strong wireless reception, eliminating signal interference even under high temperatures, while conforming to a standard ANSI format – 1.98 inches in diameter and 1.98 inches in length – with a GU 5.3 base. A GU 10 base version is planned for release later this year. Compliant with the IEEE 802.15.4 standard for wireless communication, TSR's new wireless MR16 LED can be used with a wide range of network software stacks, including ZigBee® Light Link, ZigBee Home Automation and JenNet-IP™. The intelliSSL smart MR16 LED is ideal for commercial, architectural and outdoor lighting installations, as well as general lighting applications.
"Wireless lighting control is becoming a strategic investment for commercial and residential buildings, with significant ROI in terms of energy savings and total cost of ownership, as well as safety and security," said Mikhail Sagal, president of Thermal Solution Resources. "With the world's first wireless MR16 LED, we've opened a host of new use cases for wireless smart lighting. The flexible, ultra-compact design of the intelliSSL lamp enables wireless LED replacement lamps to be integrated in nearly any type of lighting installation, as well as security systems and devices such as motion sensors, cameras and automated shade controls."
The intelliSSL smart MR16 LED lamp is made with TSR's moduLED™ design, which eliminates thermal bottlenecks and inefficient assembly steps, while strengthening wireless range and data accuracy. TSR, a design and manufacturing firm for LED lighting headquartered in Rhode Island, offers unique expertise and IP in thermal management, LED lighting design, manufacturing and wireless integration.
"Wireless smart lighting has been embraced enthusiastically by tech-savvy consumers. Now with the first wirelessly-enabled MR16 from TSR, we expect to see broader adoption, also by businesses, for commercial and architectural lighting installations," said Marcel Walgering, general manager, smart home and energy product line, NXP Semiconductors. "As part of a connected home, smart building or intelligent city network, smart LEDs have the potential to significantly change the way we manage lighting, security and energy consumption on a grand scale."
Links

About NXP Semiconductors
NXP Semiconductors N.V. (NASDAQ: NXPI) provides High Performance Mixed Signal and Standard Product solutions that leverage its leading RF, Analog, Power Management, Interface, Security and Digital Processing expertise. These innovations are used in a wide range of automotive, identification, wireless infrastructure, lighting, industrial, mobile, consumer and computing applications. A global semiconductor company with operations in more than 25 countries, NXP posted revenue of $4.36 billion in 2012. Additional information can be found by visiting http://www.nxp.com.
About TSR
TSR is a design and manufacturing firm for LED lighting. With over 15 years in LED applications, TSR has developed a design methodology that addresses manufacturability of LED lighting products. Thermal management is at the core of its business expertise, with patent-pending designs for thermal management, manufacturing and wireless integration for Smart Lighting. Located in Narragansett, RI with global affiliates, TSR is uniquely positioned to continue to provide leadership in advanced manufacturing designs to reduce the cost and increase quality of LED lighting products. High volume LED lighting manufacturing methods developed by TSR have a prominent position in the future of Smart Lighting. Web site: http://www.thermsource.com
Note to editors: intelliSSL and moduLED are trademarks of Thermal Solution Resources, LLC. JenNet-IP is a trademark of NXP Semiconductors. All other trademarks are property of their respective owners.
Forward-looking Statements (NXP)
This document includes forward-looking statements which include statements regarding NXP's business strategy, financial condition, results of operations and market data, as well as other statements that are not historical facts. By their nature, forward-looking statements are subject to numerous factors, risks and uncertainties that could cause actual outcomes and results to be materially different from those projected. Readers are cautioned not to place undue reliance on these forward-looking statements. Except for any ongoing obligation to disclose material information as required by the United States federal securities laws, NXP does not have any intention or obligation to publicly update or revise any forward-looking statements after NXP distributes this document, whether to reflect any future events or circumstances or otherwise. For a discussion of potential risks and uncertainties, please refer to the risk factors listed in NXP's SEC filings. Copies of NXP's SEC filings are available from the SEC website, http://www.sec.gov.