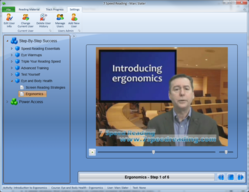 The review mentions time-saving, ever-growing general knowledge, and being up to date with developments, as some of these advantages.
New York City, NY (PRWEB) April 29, 2013
A speed reading software review by review site Software Review Boffin recently compared three speed reading software systems, and concluded that the 2013 release of 7 Speed Reading™ remains at the top of the list, thanks to how fast it is for users to improve their reading pace.
The review puts 7 Speed Reading™ at the top because it provides users with a scientifically based learning experience. The software developers managed to concentrate, in a single software package, all the necessary tools for effective speed reading. The reviewer attributes the software's effectiveness to how smoothly it combines expertise-building lessons with engaging game-based practice. Neither of the other two software packages incorporate both these attributes, the reviewer asserts.
In this speed reading software review, emphasis is given to the long list of benefits the user gains after training with 7 Speed Reading™. The review mentions time-saving, ever-growing general knowledge, and being up to date with developments, as some of these advantages. The reviewer confirms how his reading picked up soon after he started practicing with the 7 Speed Reading™ exercises, something he confesses he was impressed with and did not expect.
The reviewer underlines that if it were not for the software's user-friendliness and expert-designed activities, the software wouldn't stand out from its competition. Instead, 7 Speed Reading™ has been made fully interactive and customizable so that everyone can find practicing exercises that match their needs. A lot of effort was invested in providing users an experience that is both interesting and effective at the same time. The reviewer noted that the expertise and professionalism of the developers that created 7 Speed Reading™ is immediately felt.
While the other two software packages reviewed have some decent features, they are not as appealing to users, the review suggests, and this setback doesn't allow them to unveil their full potential. In conclusion, the reviewer underlines the fact that the interactive interface of 7 Speed Reading™ makes learning easy and fun, which in turn translates in speed reading improvement.
For more information about the benefits of using 7 Speed Reading, please visit the official website at http://www.7speedreading.com.
About 7 Speed Reading™
7 Speed Reading is the only modern speed reading software that uses the latest technology to produce superior results.
The software provides its users with a new way to master speed reading that guarantees three times the reading speed along with improved memory and comprehension.
The software is poised as the most comprehensive speed reading system anywhere. It contains seven learning strategies, fifteen software activities, video training, advanced tracking capabilities and many more exciting features.