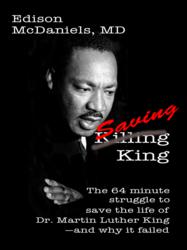 SAVING KING is a clever work of creative nonfiction which showcases the trauma system in 1968—and in 2013.
(PRWEB) April 24, 2013
Edison McDaniels, a board certified neurosurgeon who also pens a popular blog discussing neurosurgery from a lay perspective (NEUROSURGERY101—TheBlog), has written an astounding monograph examining in detail the 64 minute struggle to save Dr. Martin Luther King's life after he was shot in April of 1968.
King was shot at 6:01 pm on April 4th, 1968. He was pronounced dead 64 minutes later, after a struggle that included an emergent tracheostomy and open heart massage. In SAVING KING, McDaniels dramatically recreates these events in graphic detail, providing an almost minute by minute account of the first responders at the scene, followed by the action as it appears to have taken place in the emergency room. This account is based on a close reading of eyewitness reports, King's autopsy, and the 1978 House Select Committee on Assassinations' investigation into the MLK assassination.
SAVING KING is a clever work of creative nonfiction which not only dramatizes the action in heartbreaking detail, it showcases the US trauma system at work in 1968—and in 2013. One of the most interesting portions of the monograph (which runs about 8,000 words and is an intense read by any measure) comes near the end, when McDaniels goes the extra mile and shows how such a grievous injury might be handled today.
In fact, one of the things SAVING KING does so well is to inform the lay public about the US trauma system. In this regard it is informative and educational without seeming to be. It reads more like a novella than a monograph, and very definitely has a story to tell.
The story opens with MLK on the balcony of the Lorraine Motel one minute before he is shot, and doesn't end until he is pronounced dead 65 minutes later. Along the way, we watch as the first responders (a modern term) are overwhelmed by the bleeding and essentially just scoop and run. It is a tense 15-20 minutes later before King's airway is finally established via an emergent tracheostomy—and his breathing finally restored to something reasonable. We learn too about the incredible coincidence that led to a delay in calling an ambulance—it turns out King wasn't the only fatal casualty that day.
The author is himself an accomplished writer, and more than qualified to write such an authoritative work. Edison McDaniels is a board certified neurosurgeon with an extensive surgical experience, including more than a little bit of trauma. He is the author of several novels, including the acclaimed NOT ONE AMONG THEM WHOLE: A NOVEL OF GETTYSBURG, which has been described as a magnificently harrowing trip into the bloody horrors of the Battle of Gettysburg. It's about surgery in a time when every wound was potentially fatal and every operation was a minor miracle, according to the author himself.
McDaniels' strength in writing, which comes across loud and clear in SAVING KING, is his unusual ability to make the intricacies of medicine and surgery understandable to the masses. This is at least in part owing to his unique combination as an experienced surgeon, a talented writer, and a passion for both. And, in his case at least, the parts sum to more than the whole. Indeed, Taylor Polites, author of THE REBEL WIFE, has called him "An amazingly talented writer…"
SAVING KING is a timely work of stunning medical and surgical detail, written in an engaging fashion. It's an incredible bargain at just 99¢ in the Kindle store. Edison McDaniels is an author who deserves to be taken seriously.