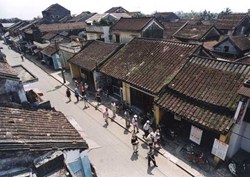 Vietsmile Travel provides many options for tourists when they book a tour in Hoi An
(PRWEB) April 24, 2013
In the recent time, many travel services have been emerging together with the development of tourism. Vietsmile Travel, known as a reliable site for international tourists for long, is making its on-going efforts to attract customers and compete with other travel companies. This summer, the company continues to launch a big promotion, discounting from 15-30% for its services, including tour packages, visa, and air tickets.
Vietsmile Travel is now putting emphasis on tours in such famous tourist attractions as Hanoi, Ha Long, Ho Chi Minh City, Hoi An, Hue, Danang, and Nha Trang. Just getting access to the website of Vietsmile Travel, tourists can have full information on the program for each spots. Especially, tours in Hoi An are preferred by most tourists due to its traditional and unique attraction.
Hoi An, known as the Venice of Vietnam, retains a sense of history with ancient beauty. Indeed, Hoi An Old Quarter is the place preserving Sleepy Hollow of coexisting Asian cultures. Being the cultural crossroad of Cham people, Asia, and Western culture, the city has old architecture lanes and houses left from their initial buildings. Tourists often feel like they are staying in the past when walking along the streets that used to be a major trading port and a center of cultural interminglement among Vietnam, China, and Japan.
A highlight that puts a spell on tourists once coming to Hoi An is night festival with flower garlands and colored lanterns. It is the time when motorbikes are banned from the Old Town. Then, the Old Town becomes the wonderland of colorful lanterns, silk, glass, folk songs, and traditional games. Tourists can walk along streets to buy souvenirs, handicrafts, antique pieces, silk materials, art paintings, etc. Besides, they can call in villages to experience the simple and unique lifestyle of local residents here.
Vietsmile Travel provides many options for tourists when they book a tour in Hoi An. They can have a tour in 1 day just with $35. The most favorite option is the package of Hue – Danang – Hoi An in 1 day and 3 nights at the price of $198 - $365. Tourists can visit the website of Vietsmile Travel to book tour and request more information.