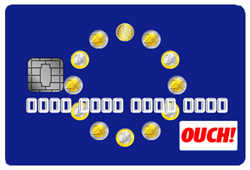 the confusion they give rise to is a barrier to free trade and therefore on the radar of the European Commission
London (PRWEB UK) 23 April 2013
Hot on the heels of new regulations in the UK and fines from the Netherlands Consumer Authority (last month); Ryanair has been fined by Italy's competition watchdog for adding a 2 percent processing fee for certain credit card payments.
The 400,000 EUR fine was imposed after Ryanair was accused by Italy's competition watchdog of failing to honour commitment to simply online ticket sales.
In some respects those demands go even further than those imposed by UK regulators at the start of this month, in that they require prices to be, "...clearly and fully indicated from the very first contact with the consumer." UK regulators only insisted that fees associated with payment card use were based on the actual associated cost to the sellers – rather than simply arbitrary figures some were previously inclined to use.
Ryanair have confirmed they will be fighting "...the unfounded decision by the Italian competition authority", but Carlo Rienzi, President of Codacons leaves no uncertainty as to the views of the Italian Consumer Association. "...[C]ommission costs for buying with credit cards are very high and are kept hidden by some airlines until the last moment."
A spokesperson for money saving website compareandsave.com said:
"It seems that there's a general distaste in Europe at the moment for what are perceived to be unfair charges for using credit, debit and prepaid cards. Clearly businesses in the travel sector are bearing the brunt of that frustration at the moment, but they are certainly not the only offenders."
As electronic payments become dominant these issues are likely to arise with more frequency. Whether that means there needs to be pan-European agreement on the fees associated with purchasing is certainly up for debate – it could be argued that the confusion they give rise to is a barrier to free trade and therefore firmly on the radar of the European Commission"
___________________
compareandsave.com is one of the UK's leading personal finance comparison websites. Based in Colchester, Essex, compareandsave.com has been helping UK consumers get a better deal on credit cards, saving, loans and more for over five years.