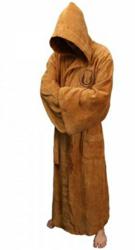 Hayes, Middlesex (PRWEB UK) 25 April 2013
It is getting closer to May the 4th, a day that Star Wars fans around the world look forward to celebrating. The Internet Gift Store is the perfect place for fans of the saga to visit and is offering a great range of dressing gowns and novelty mugs so fans can show their love for the series.
May the 4th Be with You is the perfect take on the well known phrase from the films and is why this date was selected as a day for Star Wars fans to celebrate and honour the film series.
Star Wars has become big news over the last few months with many rumours and news circulating around it. With the unlikely name of Walt Disney taking over the popular film series and news that they will be bringing out a brand new movie in 2015 titled 'Episode VII', it is an exciting time to be a fan of the much beloved franchise.
No details have been unveiled yet about the storyline for 'Episode VII' but Disney will be bringing out a new Star Wars film every summer after the first release in 2015. The only thing revealed is that the new film is going to be an original story and not directly linked to the previous films or novels. Star Wars fans will no doubt be celebrating this release for the next few May 4th until the date arrives.
The Internet Gift Store loves the Star Wars series and has a great choice of merchandise for fans. From novelty gifts and mugs to lunch bags and the increasingly popular dressing gowns, browse the full range at [http://www.internetgiftstore.com/gifts-c6/dressing-gowns-c20
About
Internet Gift Store was founded in early 2009 and since then has grown as a business and offers a brilliant range of gifts online. Customers will find something to suit everyone, from mum to dad, brother to sister, cousin to friend and much more. The staff behind the site is passionate about seeking out great gifts and putting them all in one place for an easy and fun shopping experience for customers to enjoy.