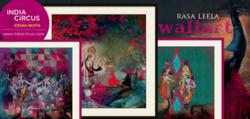 "We love to bring out the endless beauty & art, our country has to offer.Rasa Leela is yet another page in our journey of exploring India. This collection is our dedication to the divinity of Love, Colors and their glorious charm"says Krsna Mehta
(PRWEB) April 24, 2013
India Circus, the contemporary-chic home décor, lifestyle, and personal accessories brand by celebrated designer Krsna Mehta, has launched Rasa Leela, a new wall art collection that romances with the charm of colours. This beautiful India Circus Wall Art Collection is India Circus' love story and romance with colours, in an ethnic and ancient Indian style. Rasa Leela is devotional, dramatic, and truly divine.
India's rich mythology and culture has greatly inspired artists across the country and abroad. Rasa Leela is India Circus' attempt to relive some of the most beautiful chapters from Indian mythology. The wall art in this collection has rich and deep colours that personify the moods and milieu of the romantic era. From the dances of the lords, to the romance of the gods, Rasa Leela has an unspoken, mystical and magical appeal to it.
Speaking about Rasa Leela, Mr. Krsna Mehta, Design Director, India Circus, shares, "India, and its exotic spirit, is the focus of every home décor product and personal accessory at India Circus. In our products, we love to bring out the endless beauty and art that our country has to offer. Rasa Leela is yet another page in our story and journey of exploring India. This collection is our dedication to the divinity of colours and their glorious charm."
With Rasa Leela, India Circus celebrates love, dance, the divine, and, of course, colours.