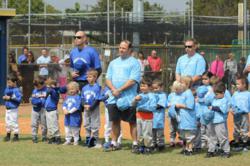 we wanted to show young players the importance of keeping a glove in optimal condition
Boca Raton, FL (PRWEB) April 24, 2013
Pro 47 Products has found the answer to simplifying the glove conditioning process. Inventors Victor Creighton and Peter Kapreilian worked in partnership with former Major League baseball pitcher Tom Glavine (Atlanta Braves and N.Y. Mets), to create a high quality, easy-to-use recyclable towelette application that can benefit every level player. Glavine, who has been awarded multiple Major League Baseball accolades during his 23 year career including two Cy Young awards and being named the 1995 World Series MVP said "it's time to Show your glove some love".
"We feel that we've developed the highest-performing, most convenient glove conditioner on the market," said Kapreilian. "By getting it into the hands of local Little Leaguers, we wanted to show young players the importance of keeping a glove in optimal condition."
Tom Glavine's Pro Glove Conditioner is a proprietary mixture of argan and mink oil that offers a no-mess glove conditioner for breaking-in, restoring or preserving a leather glove – lasting longer and providing greater comfort. This one step application offers convenient, individually sealed packets that are designed for easy storage in baseball gear bags and ease of use at anytime, anywhere.
"From Little League to the Major Leagues, having a baseball glove in the right condition can definitely impact your game," said Antonio Herrera who distributed the product to Boca Raton Little League players. Nonetheless, the process of conditioning a glove traditionally has typically been a messy, inefficient hassle and our product simplifies the discussion for most players and parents.
The solution comes in a package of six and retails for $5.99, and is available online (pro47products.com) or at local retailers.
ABOUT PRO47
Pro47 is the manufacturer and marketer of a convenient glove conditioning product, developed in collaboration with former Major League player Tom Glavine, who will play an integral role in the development, distribution and marketing of the product. Since its launch in 2012, the company has been growing its base of distributors and expanding its product line. For more information, visit Pro47Products.com.