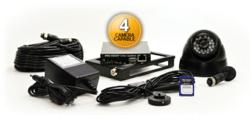 we could better serve the needs of our customers by offering video systems that worked seamlessly in both patrol cars and interview rooms, eliminating the need for secondary processes and additional training
Byron Center, Michigan (PRWEB) April 24, 2013
PRO-VISION announced today the release of their new Interview Room Video Recording System. As a response to numerous customer requests for a reliable, simple and affordable™ video recording system for suspect interrogation rooms, PRO-VISION has diversified their product lineup with the addition of an interview room recording system. After countless discussions with current customers touting PRO-VISION dash cameras on their police cruisers, PRO-VISION became aware of a recurring request for interview room cameras that operated in a similar manner. "We felt that we could better serve the needs of our customers by offering video systems that worked seamlessly in both patrol cars and interview rooms, eliminating the need for secondary processes and additional training," said Marketing Manager Sam Lehnert.
The new system includes a compact DVR, about the size of two decks of cards, and comes standard with a 64GB SDXC card. Compared with bulky hard drive systems, the PRO-VISION system integrates easily into the existing architecture of the building allowing for quick, easy installation. In addition, PRO-VISION offers an optional automated file transfer feature that eliminates the need to manually backup video evidence files and a remote viewing feature that gives agencies the ability to view interviews with full audio in real-time from another part of the building. "When you find enough customers with an unmet need, it is the logical decision to meet it," said Lehnert.
About PRO-VISION – In 2003, PRO-VISION was incorporated and started by supplying back-up camera systems. 2005 marked their entry into the School Bus market. By 2009, PRO-VISION had entered the Commercial Recording System market, released 4 Camera School Bus Systems, and allowed for Live Video Viewing and Video File Transfer. By 2011, the company had expanded into a 240% larger facility and entered the law enforcement recording system market. The company has expanded to the international market selling systems into countries such as South Africa, Great Britain, Australia, Mexico, and Brazil, to name a few. PRO-VISION is ranked in the top 100 manufacturing firms on the Inc. 5000 list of fastest-growing private companies in America for 2012, and also earned a spot on the list in 2011.