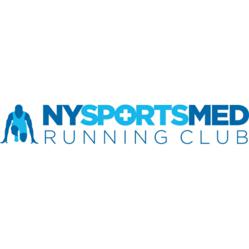 New York, NY (PRWEB) April 25, 2013
In an ongoing effort to establish themselves as the gold standard for NYC runners, New York SportsMed (NYSM) proudly announces the 2013 relaunch of its Running Club. Open to participants at all levels— from those just starting out to seasoned marathoners— the group is led by the expert physical therapists who practice at the city's most advanced physical therapy clinic. The club's mantra is "running without injury," a creed that continues to make it THE GROUP for for the most up-to-date education and training techniques on proper running form and the prevention of injury.
"As we're starting to transition from winter into spring, many of our patients haven't run for several months now—that's why it's important they arm themselves with the right information on the do's and don'ts when it comes to reestablishing their routine," explains Wendy Rhodes, a NYSM therapist who often leads the group and is the program director of NY SportsMed RUN. "By having the ability to interact with physical therapists as they train, runners are better able to assess any bioiomechanical weaknesses that may exist. The deficiencies aren't always noticeable to the untrained eye, so it's crucial that any potential problems be evaluated by someone who's been trained to do just that. It helps lay the groundwork for peak performance and a more enjoyable, injury-free running routine," she adds. It's that kind of thinking —that combining real world education with a hands-on approach is the most effective way to bring about athletic progress— that's made NY SportsMed THE one-stop shop for NYC runners.
Registered as "NYSM" under New York Road Runners, the group establishes three progressive goals each week. "As with any sports, setting goals are key. They provide powerful motivation and ultimately create a better runner," says Rhodes. She further notes that the club was specifically designed to be inclusive to runners at all levels. "Research has shown time and time again that running with others is one of the most effective tools to help a runner reestablish their routine and further their personal goals in a more rapid, efficient fashion," she adds. Simply put, NYSM views their running club as a team effort. And with this team, everyone's encouraged to join.
The NY SportsMed Running Club meets every at Wednesday at 7am from their Columbus Circle location at 1841 Broadway, Suite 1100.
For more information, please email: RUN(at)nysportsmed(dot)com
ABOUT NEW YORK SPORTSMED
New York Sports Medicine and Physical Therapy provides a personalized, comprehensive approach to physical and sports medicine and rehabilitation. Through the practice of physiatry, a medical specialty that focuses on the recovery from musculoskeletal injuries, function is restored, healing is promoted, and pain is alleviated. Its approach to sports medicine is to provide a comprehensive set of options to maintain your athleticism, heal your body from injury, and keep it as pain free as possible. To learn more about NY SportsMed visit http://www.nysportsmed.com, on facebook at http://www.facebook/nysportsmed or twitter @NYSportsMed.