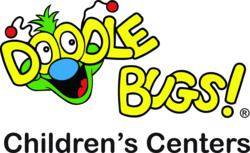 Buffalo, NY (PRWEB) April 25, 2013
The mild temperatures may have just begun, but parents are already finalizing their children's summer camp programs. Doodle Bugs! Children's Centers, a local leader in educational child care, is hosting an open house to showcase their summer camp program, field trips and activities with local parents.
The event will be held on May 9th from 6 p.m. to 8 p.m. at all Doodle Bugs! centers. It is open to the public and will include fun activities and refreshments. Parents will have the opportunity to meet the faculty, tour the center and enroll for camp.
The Doodle Bugs! Summer Camp offers children an exciting summer filled with skill-building activities; creative learning; and fun, engaging clubs and field trips. Doodle Bugs! Summer Camp consists of two programs specifically designed for children ages three to five and five to 12. The camp has flexible scheduling options and includes breakfast, lunch and afternoon snacks. Parents are encouraged to attend the event to receive early bird discounts and sign up for special events.
"Our program is unique compared to other summer camp options, because we offer an entire summer of learning, clubs and field trips. Children can get a robust summer experience without having to be enrolled in four or five specialty camps," said Christina Fecio, director of education and training.
Doodle Bugs! Children's Centers is locally owned and operated, with six centers in Buffalo and four in Rochester. The eleventh center recently opened in Pittsburgh, PA, and their second franchised location is currently under construction in Greece, NY. CEO Anthony Insinna and his sisters, Clarine Insinna and Anna Insinna Zavatti, established the company in 1992 in East Amherst.
For more information on the Summer Camp Sneak Peek Event, please call 866.668.5111 or visit http://www.doodlebugs.com.
About Doodle Bugs! Children's Centers:
Doodle Bugs! is the leading provider of child care programs in Western New York, currently operating ten family owned locations and one franchise location. Comprehensive program information is available at http://www.doodlebugs.com; information about franchise opportunities is available at http://www.doodlebugsfranchise.com.